Ben Rudy: "Most important thing in mas-wrestling is a support of your family!"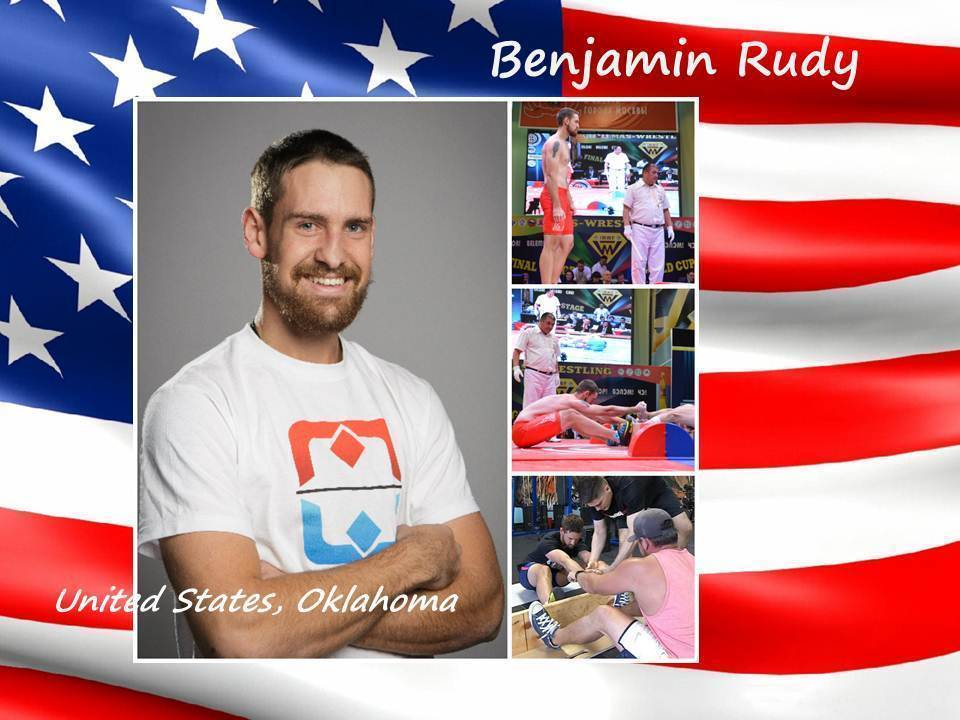 22.08.2016
Prior to World Nomad Games in Kyrgyzstan we decided to get to know mas-wrestling athletes from the USA team. We had a wonderful chance to meet Ben Rudy, 24-year old Broken Arrow sportsman representing state of Oklahoma, USA, and talk to him about his expectations before the games, training for mas-wrestling, how he became a member of the USA mas-wrestling team and things he likes to do.
- Hi Ben! It's very nice to meet you in this incredible park in the middle of Oklahoma City. So tell us a bit about yourself, this state and your family.
Ben: I was born and grew up in Broken Arrow, Oklahoma. Oklahoma is a beautiful state famous for Indian reservations and pretty sunsets. I have two older brothers and a little sister, my parents have been together for 32 years. I have lived here my whole life and sports and outdoors are a big part of this state.
- What is mas-wrestling for you? How did you get to know this sport?
Ben: Mas-wrestling has opened a door for me to experience different cultures, it requires a big deal of traveling. Mas-wrestling is also seeing different cultures and seeing the differences in sports of other countries. My coach showed me a video and I thought it would be great to try something new!
- How do you friends and you family support you in your beginnings?
Ben: My family and friends are all supportive. Mas-wrestling is a very strange sport for America, but when I told about it to my relatives and friends they didn't laugh but became very supportive of me. They always help out whatever they can for whatever I need financially and morally, encouraging me before competitions and during my trainings.
- What exercises do you do in order to train for mas-wrestling?
Ben: I do a lot of deadlifts, squats, a lot of grip exercises, strongman training, I do yoke carries and athlete stones, farmer's walks. I also do a lot of stretching, mas-wrestling definitely made me more flexible and now I incorporated yoga in my trainings, because yoga requires a core strength which is very important for mas-wrestling.
- Tell us about your impressions about last year Moscow World Championship and trip as well?
Ben: It was my first time leaving the country and definitely it was a whole new experience for me seeing different country and culture. We got to see a little bit of the city, went to Red Square, architecture and a lot of history. We went to Russian cuisine restaurant where I tried borsch and beer meat. I didn't like borsch but Siberian dumplings were pretty good! I didn't perform well in a World Cup, I have lost my first match, and my opponent lost his match, so I was out.
- How often do you go to gym?
Ben: I go to gym at least 4 times a week, sometimes 6 to 7, we practice mas-wrestling once a week. My coach, the owner of the gym, is the one who got me into mas-wrestling seeing a video of Odd Haugen.
- We know, that this year two representatives of Oklahoma will perform in Kyrgyzstan, tell us how it happened that your cousin is also taking part in mas-wrestling competition?
Ben: I told my cousin Russell about mas-wrestling, he seemed interested and tried it and earned his way to World Cup.
- What do you do to populate mas-wrestling in Oklahoma?
Ben: We usually get in touch to other gyms messaging them through Facebook and asking if they want to try mas-wrestling, sending videos and bringing equipment to their gym. Several people have shown interest in it so hopefully we will make it grown in Oklahoma.
- What motivates you to fight?
Ben: It's one on one competition and the fact that you represent your country motivates you the most because you don't want to fail.
- What about do you think during the fight?
Ben: I normally think about my first movement and then nothing other but holding on stick 
- Do you think Americans need to know and learn more about different European and Asian nomadic sports?
Ben: It's definitely has been interesting learning about them. I don't know too much, but it wouldn't hurt to know more, especially tactics they do. It can help during our trainings!
- Do you make a lot of friends during your trips?
Ben: Yeah we do, we always meet new people and it's always an adventure to make friends with foreigners!
- Are you excited about the forthcoming trip to Kyrgyzstan? Do you know anything about this country?
Ben: Yes, I am very excited to see Kyrgyzstan. I don't know much about their culture but I read some information, and one friend of mine tries to prepare me for the trip telling more about Kyrgyz people, habits and fun facts.
- You went to Moscow for World Cup, what would you like to improve in organization of this event?
Ben: There was issue with water last year, we couldn't even find water to buy. Also everything was in Russian and we didn't know what was going on the stage during the event.
- What do you expect from forthcoming games?
Ben: A lot of hard competition, a lot of new countries and athletes. Hope to compete well.
- What other hobbies do you have? I know you play bowling on a professional level!
Ben: I like to read, go on hikes, travel, cook and photography!
When I'm not golfing or bowling (laughing).
- Slogan for life!
Ben: I have a favorite quotation by Henry Ford: "Whether you think you can, or you think you can't - you're right".
- GOOD LUCK to you Ben and we will see you soon!

Yuliya Paskal, August 20 th, 2016.
Number of shows: 1133
Country:
United States of America