New friends from Uruguay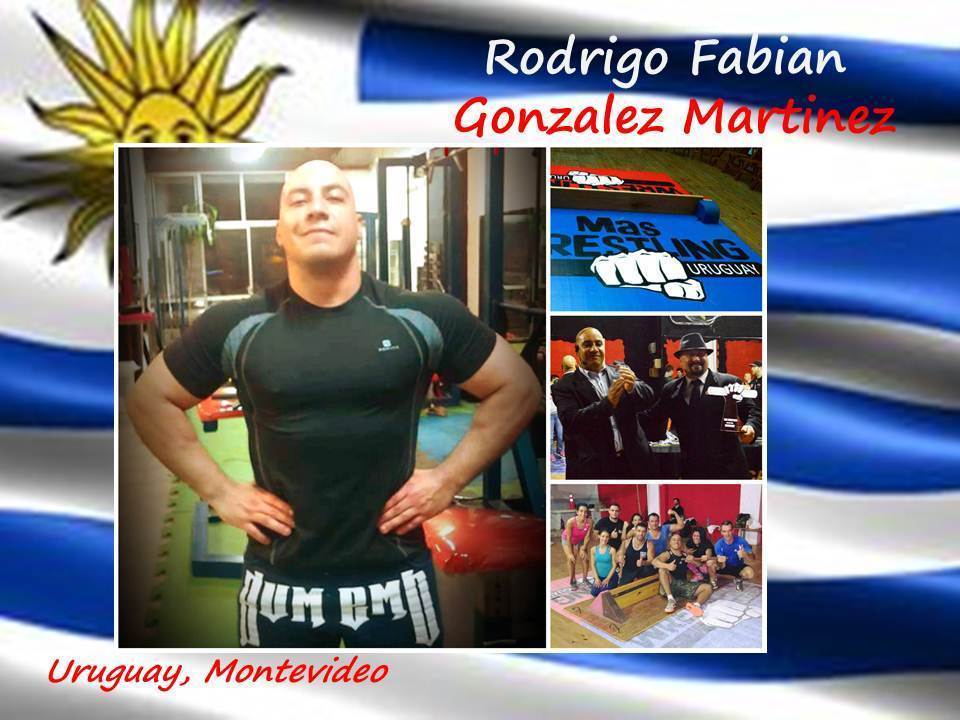 26.08.2016
As we know, the world of mas-wrestling is very large. We have friends from all over the world. And very soon we will gather together again to meet and discuss our plans for future, to hold world championship. We are happy to have new persons among us because all of them are extraordinary figures.
Now let me introduce you our new colleague from Uruguay - Rodrigo Fabian Gonzalez Martinez. He was the one to organize Mas-Wrestling Confederation of Uruguay.
He will be a competitor of the 2nd Mas-Wrestling World Championship in Cholpon-Ata in a weight category up to 90 kg.
His sport achievements:
- the 2nd place - Mas-Wrestling Tournament «El dorado – 2015», Montevideo
- the 2nd place - Mas-Wrestling Tournament in Grape Fest - 2015, Caxias do Sul
- the 2nd place - Arnold Classic Brazil – 2016, Rio-de-Janeiro

- Rodrigo, tell us about yourself.
Rodrigo: My name is Rodrigo Gonzalez. I am 35 years old and I am from South America, representing the country of Uruguay. I have grown up and live in the city of Montevideo. I work in teaching physical activities and the practice of sports.
- What do you like to do out of sport?
Rodrigo: My hobbies are to listen to music, to eat with friends, to enjoy the beach and to play with my dogs.
-When did you get to know about mas-wrestling?
Rodrigo: I have known mas-wrestling approximately two years ago from the trainer Vilmar Oliveira who invited me to take part at the competition in Brazil. Since then I have taken part in several championships in South America. Also I began develop mas- wrestling in my country teaching and spreading the practice.
- What do you think about perspectives of Yakut sport in your country?
Rodrigo: Mas-wrestling in Uruguay was very well accepted since in South America, because we used to know new sports, other cultures and customs. Mas-wrestling has a very rich interesting history.
- It seems to me that you like to learn new things. What do you expect from a new trip?
Rodrigo: I am very excited in next world championship, to know people of other cultures and places are one of the pretty things that have the traditional sports.
- How do you prepare for the upcoming competitions?
Rodrigo: In my preparation for this competition I train three times a week of gym and two of practice in mas- wrestling. In the physical thing - to lift weight, agility and stretching.
The strategy is a very important part of mas- wrestling competitions. But one of the thing more important are the mental preparation, the visualization and the control of yourself.
- Who will support you when you will compete so far from home?
Rodrigo: Always I receive the support of my family and it is the fundamental thing for everybody who wants to be achieved in the life. Also I receive the support of my students who are my friends and train very hardly to help myself in the preparation of the competitions.
I wait with anxieties the being departs from this great event, to make new friends learn new culture and continue teaching the sport in my country and South America.
- Do you compete from your country alone?
Rodrigo: I'll be with perspective young sportswoman Lourdes Natalia Skrycki Pereira Da Silva. She is from Montevideo too. Natalia is a graphic designer, IFBB Body building and fitness trainer. She will compete in weight category up to 55 kg.
- What is your personal slogan?
Rodrigo: My slogan for the life is: «To train hard, eat well and enjoy the life».

We welcome Rodrigo to our mas-wrestling family and wish good luck in Kyrgyzstan.
Lena Tomskaya
Number of shows: 1190