For the first time in Ukraine mas-wrestling competitions at the international level have taken place in Melitopol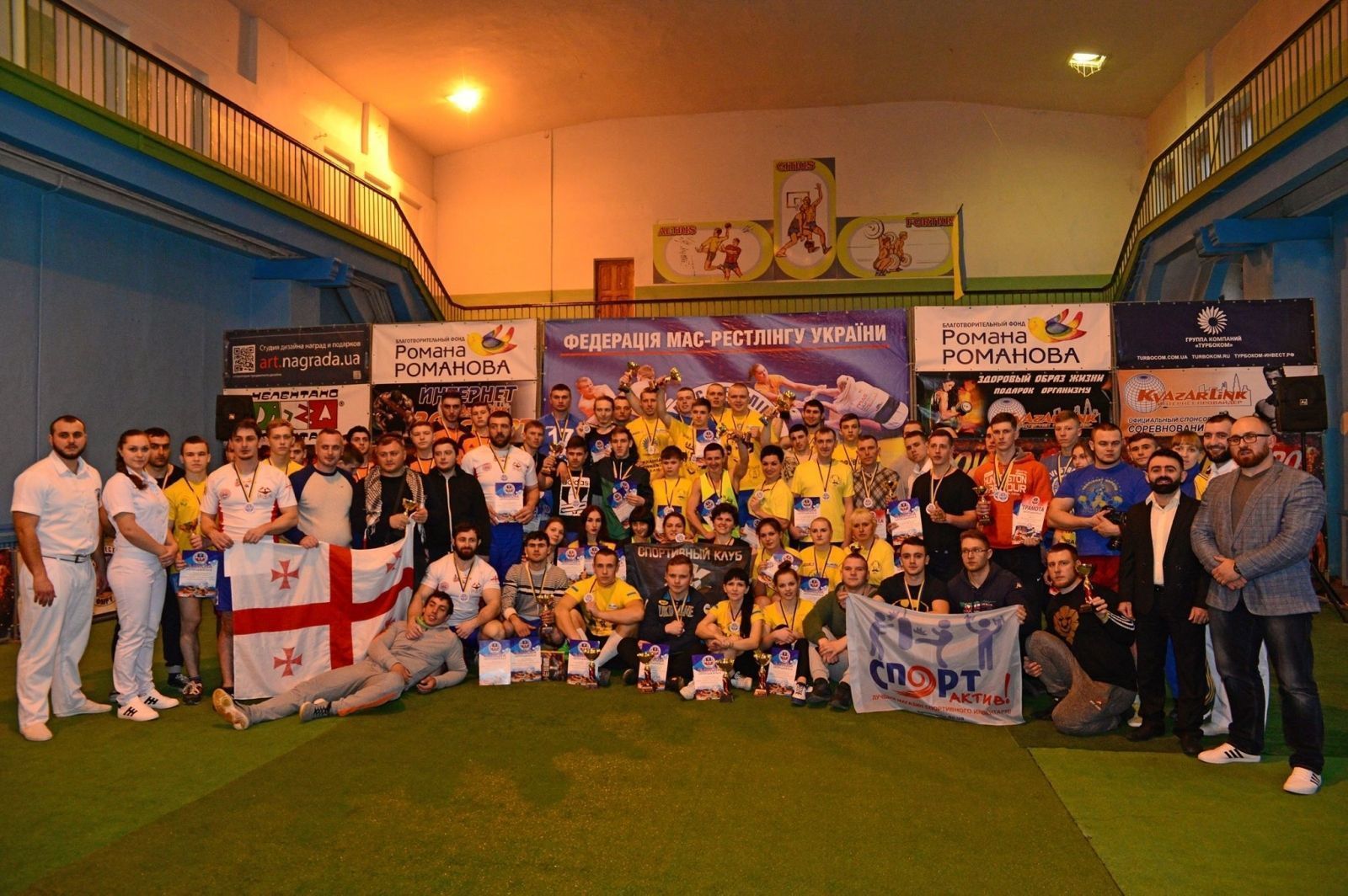 27.02.2017
Yesterday, on February 25, in Melitopol there has passed the II Mas-Wrestling Cup of Ukraine. 67 athletes from the Kiev, Zaporizhye, Kharkov, Kherson, Lugansk and Kherson regions, and the national mas-wrestling team of Georgia have participated in competitions.
Thus, it is possible to say that in Ukraine have for the first time taken place on the international level competitions in this sport.
For the first time bout was conducted at the same time on two platform that has allowed to hold competitions much quicker. It is pleasant to note that large number of athletes who have quite recently opened for themselves this beautiful and dynamic sport has participated in competitions. In particular, it is the team of the Nikopol club "Athlet" headed by Pavel Yukhno. For the first time children have declared themselves in the recent championship of the Dnipropetrovsk region, and now have participated already in All-Ukrainian competitions.
Participation in competitions of Georgia team became the real surprise for admirers of mas-wrestling both in our country, and outside Ukraine. Let's remind our readers that the national team of Georgia in the world ranking takes the third place, and the second in Europe. "Participation of the strongest athletes of Georgia will not bad stir up from hibernation of our athletes – said the president of Federation of mas-wrestling of Ukraine Valery Gazayev comments on the decision. – Besides, it is opportunity for our athletes who did not participate in the international tournaments yet, to fight with the titled athletes of the abroad".
Very good dynamics is shown at these competitions of the young man also by juniors. It is pleasant to mark out the sportswoman from Melitopol Darina Pukha who already the second time became winner among girls to 50 kg., showing uncommon potential. Serious progress is shown by Vladislav Shovgun who already in a row wins first place in the third competitions, and twice 15 summer athlete won in open weight category. According to Valery Gazayev, very big prospects also at Ivan Petrescu who shows magnificent technique.
In open age category, special surprises did not happen. In Lilia Panyukova's absence, Olga Silitskaya it is expected, and has with little effort taken gold in categories to 55 kg. The forecast and concerning category to 65 kg has come true, among women. The victory was won by Natalia Kravchenko though Alina Kostik has imposed to the sportswoman from Kryvyi Rih serious fight and has shown persistent resistance. And here Ivanna Mikhaylyuk has taken revenge for two previous defeats from Anastasia Ivchenko. Alexey Kushnir after operation on sight restoration has not regained the optimum form yet. It has conceded in spectacular duel to Vladimir Fateev. It should be noted that Vladimir trains with such giants of domestic mas-wrestling as Burkovnikov and Danilyuk therefore there is Alexey even in excellent form, with Vladimir easy fight would not turn out. Absolutely without sensations in category to 80 kg. The victory was won by Vadim Naryzhny. It is possible to distinguish Dmitry Besedin and Yakov Burkovnikov's opposition which has become traditional in category to 90 kg from the most spectacular and intense duels. As well as at two previous meetings, Yakov could overcome Dmitry in persistent duel and remains invincible in the category. Victor Danilyuk became winner in category to 105 kg. Only Vyacheslav Tislyuk from team of the Armed Forces of Ukraine could show it serious resistance. Edgar Tevs has won victory over Irakli Kachmazov and became the winner in category to 125 kg.
Let's remind our readers that results of the Ukrainian athletes along with results of the championship of Ukraine will have significant effect on inclusion of athletes in the national team.
Traditionally strong support to competitions was given by constant partners and friends of Ukraine mas-wrestling Federation: the general sponsor of the II cup of Ukraine on mas-wrestling kvazar link Internet service provider, the title sponsor of the national team of Ukraine on Power Pro mas-wrestling, the general sponsor of Federation of mas-wrestling of Ukraine Charity foundation of Roman Romanov, the media partner of Federation of mas-wrestling of Ukraine the ROZVITOK Information center, the plant of turbocompressors Turboky, Zolotomaniya shop, club the Terra sport, Vorontsovsky hotel.
Results:
Girls, to 50 kg:
1. Darina Pukha
2. Lazutin's gold
3. Valentina Marchenko
Girls, to 62 kg.:
1. Anastasia Chikor
2. Elizara Yuskova
Young men, to 54 kg.:
1. Vladislav Shovgun
2. Anatoly Kobzev
3. Niyaz Koradzhayev
3. Vladimir Nadtochny
Young men, to 59 kg.:
1. Nikolay Ovdiyenko
2. Ilya Klimoshenko
3. Vitaly Harchenko
Young men, to 65 kg.:
1. Stanislav Bocharov
2. Sergey Borshch
3. Jan Mutovin
3. Victor Barylo
Young men, to 72 kg.:
1. Ivan Petrescu
2. Telman Niyazov
3. David Zubach
3. Vladislav Starostenko
Young men, to 90 kg.:
1. Dmitry Kushta
2. Nikolay Bazarny
3. Vladislav Tynkovan
3. Alexander Kramarenko
Juniors, to 90 kg.:
1. Alexander Skripchenko
2. Igor Rotnov
3. Dmitry Gumanenko
Women, to 55 kg.:
1. Olga Silitskaya
2. Yulia Kukhanenko
3. Alesya Sylina
Women, to 65 kg.:
1. Natalya Kravchenko
2. Alina Kostik
3. Anastasia Kuznetsova
Women, over 65 kg.:
1. Ivanna Mikhaylyuk
2. Anastasia Ivchenko
3. Tatyana Vinnichuk
Men, to 60 kg.:
1. Vladislav Minich
2. Jan Shukov
3. Maxim Guzeev
3. Ivan Bosenko
Men, to 70 kg.:
1. Vladimir Fateev
2. Alexey Kushnir
3. Alexander Stelmashenko
Men, to 80 kg.:
1. Vadim Naryzhny
2. Zviadi Losakov
3. Konstantin Shvets
3. Sergey Kisly
Men, to 90 kg.:
1. Yakov Burkovnikov
2. Dmitry Besedin
3. Georgy Urushadze
3. Tornika Dzhugeli
Men, to 105 kg.:
1. Victor Danilyuk
2. Vyacheslav Teslyuk
3. Biktor Gvetadze
3. Presses Zunadze
Men, to 125 kg.:
1. Edgar Tevs
2. Irakli Kachnazovi
Translation by Milan Andreev
Photo:
Number of shows: 927
Country:
Ukraine