Fun Run completed the work of the Mas-Wrestling's site in Sochi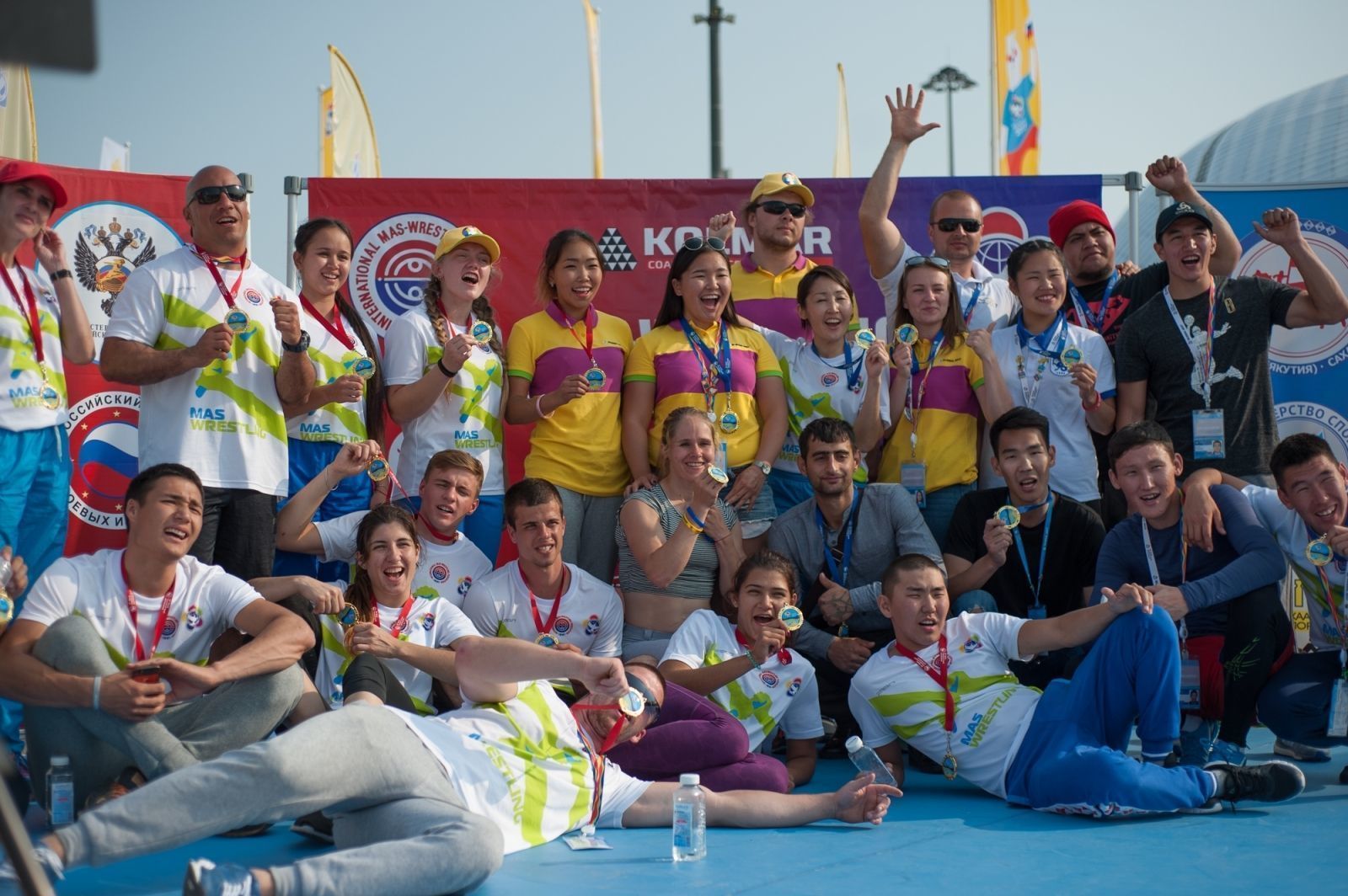 22.10.2017
The goal of bringing young people from Russian regions and around the world around the Mas-wrestling in Sochi has been achieved. The end of the festival marathon for Mas-wrestling was the Fun Run, arranged for those who kept the watch at the Mas-wrestling inventory from morning till night all the days of the Sochi festival.
The commanders of the continental teams decided to hold the Yakut fun competitions in gratitude for the excellent work. All the teams were mixed and divided into two teams - the "Blue" and "Red" (by the colors of the sides of the Mas-wrestling platform).
The list of disciplines in which athletes were supposed to compete included:
- "Hole" - standing on one leg, grabbing the opposite foot with one hand, taking himself by the opposite hand, it is necessary to sit down, bend down and take a paper cup with your lips and "drink", without losing balance;
- "Take the fish away" - you need to take a stick with one hand and wrest it from the opponent's hand;
- "Rope" - a string stretched over two sticks must be twisted faster than the opponent's to the mark in the middle;
- "Tutum-ergiir" - the athlete must twist around his axis as many times as possible for a certain period of time while holding a short stick (25 cm) with his both hands. It is important not to tear the stick out of the groove and not to touch the flooring with any part of the body;
- "Kuobah" (Hare) - team members make a jump from the place, the results are summed up;
- "Relay" - each member of the team must run around the mark and pass the stick to the next one.
As you know, nothing builds teams better than the relay race, when every member of the team is rooting for his comrade with all his might. The stick for Mas-wrestling served as a baton this time. None of the team members failed to transfer it - they took a confidently good grasp. It is interesting that at all stages of the race the competitors were running, as they say, head-to-head. The race was completed by two Innokentiys: Mironov and Govorov.
Host of the competition Aysen Semenov decided not to sum up the final points and announced a friendly draw between "Blue" and "Red" teams. All participants of the Fun Run got the golden medals, but with ribbons of different colors - blue and red. The excited children with medals on their chests did not disperse during a long time. They were writing the wishes in each others notebooks, as well as on t-shirts and bodies and taking pictures for the long memory. The organizers presented memorable gifts to all - hoodies from the Directorate of the WFYS, ethnic souvenirs and presentation booklets. Inventory with the symbols of the World Festival of Youth and Students in Sochi will spread through all the regions of Russia.
Photo:
Number of shows: 418