Mas-Wrestling World Cup - 2017 results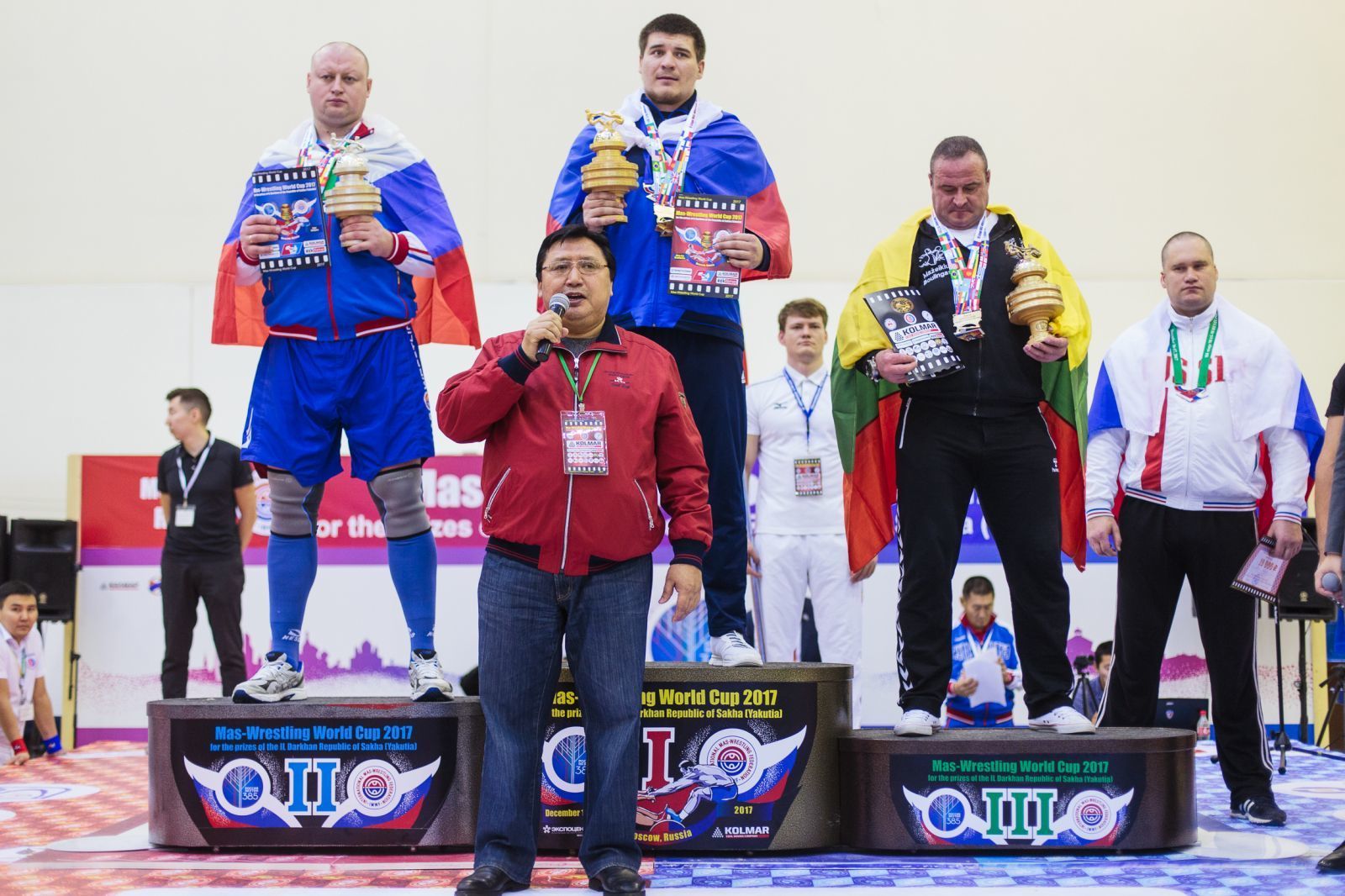 19.12.2017
On December 15-17, 2017 at the final stage in Moscow, we summed up the results of Mas-Wrestling World Cup for the prizes Il Darkhan of the Republic of Sakha (Yakutia).

В "Экспоцентре" на Краснопресненской набережной в эти дни помост мас-рестлинга собрал единомышленников из 25 стран: Австрия, Армения, Бангладеш, Беларусь, Бразилия, Венгрия, Германия, Грузия, Индия, Казахстан, Кыргызстан, Латвия, Литва, Новая Зеландия, Пакистан, Польша, Россия, Словакия, США, Таджикистан, Турция, Узбекистан, Украина, Уругвай, Финляндия направили своих специалистов и спортсменов в российскую столицу.
Почетные гости соревнований, зрители, участники отметили высочайший уровень организации мероприятия. Международная федерация благодарит генерального директора Угледобывающей компании "Колмар" Сергея Цивилева за финансовую поддержку в подготовке и проведении соревнований.
Подходит к концу 2017 –й год. Международная федерация подводит итоги. Завершился Кубок мира, три этапа которого успешно проведены в трех странах: Казахстане, Венгрии и России. Все очки подсчитаны, победители и призеры определены. Назовем поименно героев мас-рестлинга уходящего года по весовым категориям:
Мужчины 60 кг
1. Саввин Дмитрий - Россия
2. Заровняев Иннокентий - Россия
3. Омуралиев Бекжан - Кыргызстан
4. Минич Владислав – Украина
5. Зиновьев Владимир - Россия
6. Алексанян Артем – Армения
Мужчины 70 кг
1. Константинов Сергей - Россия
2. Обутов Виктор - Россия
3. Алимов Кудайназар - Кыргызстан
4. Асанов Азамат - Кыргызстан
5. Шамет Темирлан - Казахстан
6. Кушнир Олексей – Украина
Мужчины 80 кг
1. Климовский Джулуур - Россия
2. Атаков Семен - Россия
3. Нарыжный Вадим - Украина
4. Пиконин Евгений - Россия
5. Юха-Веса Янтти - Финляндия
6. Чиныбек Уулу Русланбек - Кыргызстан
Мужчины 90 кг
1. Черноградский Павел - Россия
2. Таштанбеков Азат - Кыргызстан
3. Майкл Манхарт - Германия
4. Китанович Аттила - Словакия
5. Кадыров Ильяс - Узбекистан
6. Искендеров Роман - Россия
Мужчины 105 кг
1. Попов Дмитрий - Россия
2. Абросимов Вячеслав - Кыргызстан
3. Дели Тамаш - Венгрия
4. Атайбек Уулу Келдибек - Кыргызстан
5. Мурадян Овсеп - Армения
6. Курманалиев Ермек - Кыргызстан
Мужчины 125 кг
1. Дементьев Антон - Россия
2. Калинин Роман - Россия
3. Краснов Александр - Казахстан
4. Дэвид Мессарос - Венгрия
5. Петерманн Сирко - Австрия
6. Галкин Иван – Россия
Мужчины свыше 125 кг
1. Фролкин Сергей - Россия
2. Колибабчук Виктор - Россия
3. Абрутис Антанас - Литва
4. Маркин Андрей - Россия
5. Лицис Мартинс - США
6. Бласко Чабольч – Венгрия
Женщины 55 кг
1. Осипова Сардана - Россия
2. Дьячковская Татьяна - Россия
3. Швец Александра - Украина
4. Ложкина Анна - Россия
Женщины 65 кг
1. Севрюк Ирина - Россия
2. Белолюбская Екатерина - Россия
3. Ребекка Фанни Варга - Венгрия
4. Лебеденко Юля - Украина
5. Чикор Анастасия - Украина
6. Тришина Екатерина – Россия
Женщины 75 кг
1. Филатова Саина - Россия
2. Заславская Ирина - Украина
3. Вечорек Клаудия - Польша
4. Лоцик Мария - Россия
5. Акылбек Алтын - Казахстан
6. Кайгермазова Кристина – Россия
Женщины 85 кг
1. Седалищева Саина - Россия
2. Хаапала Анника - Финляндия
3. Тарасова Вилена - Россия
4. Лукснер Патриция - Австрия
5. Жашуева Оксана - Россия
6. Шазия Канвал – Пакистан
Женщины свыше 85 кг
1. Григорь Татьяна - Россия
2. Рахманова Дильдора - Кыргызстан
3. Михайлюк Иванна - Украина
4. Оллещ Мартина - Германия
5. Кантола Сайя - Финляндия
6. Тихонова Светлана - Россия
Photo:
Number of shows: 743
Country:
Russia