Arnold Schwarzenegger welcomed Mas-Wrestling in Melbourne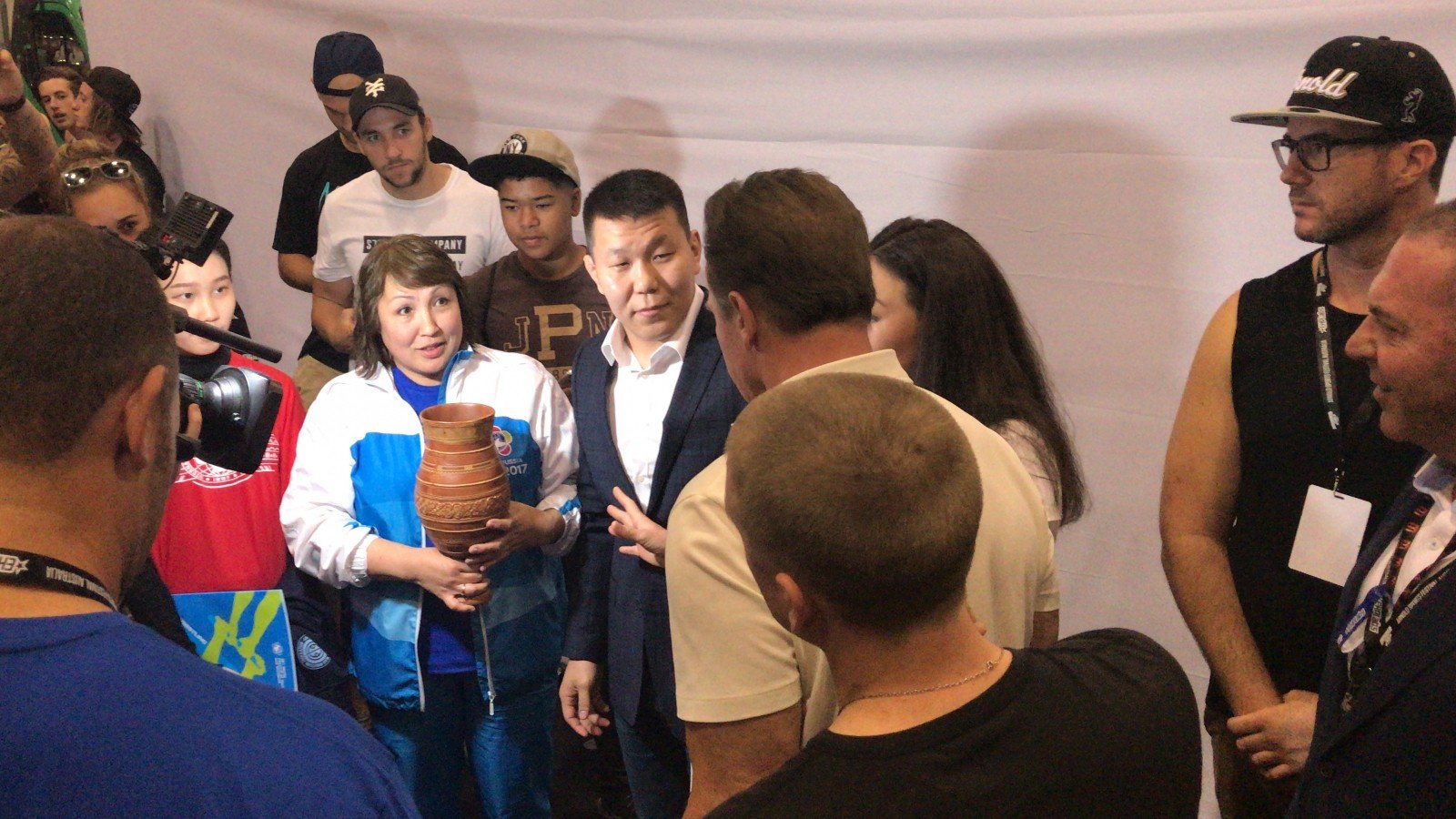 17.03.2018
On March 16-19 in Melbourne for the first time there were presentations of mas- wrestling at the Arnold Schwarzenegger sports festival.
Today is the second day of the continental version of the famous Arnold Schwarzenegger's sports festival in Melbourne. It was decided to hold a Mas-Wrestling presentation event here. President of Mas-Wrestling Federation of Australia and New Zealand Mr. Carl Waitoa organized the Mas-Wrestling site. Trainings will be interrupted by competitive moments for clarity. Men over 105 kg competed on the first day. It happened that all the participants exceeded this weight category by far – heavyweights from Australia and New Zealand. Foreign participants who submitted the preliminary applications could not arrive on time. The first place was occupied by well-known Zhan Matene, the second - Carl Waitoa, the third - Callum Haggerty.
At about 11.30 am our site was visited by Arnold Schwarzenegger with his entourage. He took a lively interest in what was happening, as it was very crowdy. He walked over and watched closely the huge guys pulling a small stick. Turning to one of the New Zealand athletes (at this time there was a battle between Zhan Matene and John Pananapa), he asked why he lost this fight and asked him to show the class. John was very excited about the attention of the legendary man and muttered that he didn't know. Then Arnold told him: "Show us some class! Win! Do everything for the victory. I want you to say to your opponent: "Hasta la vista, baby." Pull with all your strength!" Then, when the struggle began, Schwarzenegger encouraged him, began making selfies and immediately sent them to his Instagram. It is clear that after such a powerful support, John could not help but win.
The attention of the festival's top figure attracted even more people including photo and video reporters to our site. Our delegation did not disappoint them.
On behalf of Yakut people and the International Mas-Wrestling Federation Mikhail Pakhomov greeted the legendary actor with kind words in Yakut language. This time our countrywoman, a native of Chokurdah, Sargylana Kondakova helped with translation. Her husband Viktor, daughter Katya and son Kolya also actively helped us - father was filming, daughter helped with translation in the secretariat, and son demonstrated the basics of Mas-Wrestling to everyone who was interested. On behalf of the International Mas-Wrestling Federation, we want to thank the amicable Kondakovs family for their kind assistance.
I would especially like to note the activities of the President of Mas-Wrestling Federation of Australia and Oceania Mr. Carl Waitoa. It was him to help including Mas-Wrestling in the Festival's program.

Tomorrow there will be fights among men in lower weight categories. Follow the news from Melbourne.

Video https://youtu.be/kkOh89_wo9c, https://youtu.be/rfEzjEwYn8c
Number of shows: 596
Country:
Oceania