The Donga hosted Mas-wrestling in fervor from 21 to 25 April 2018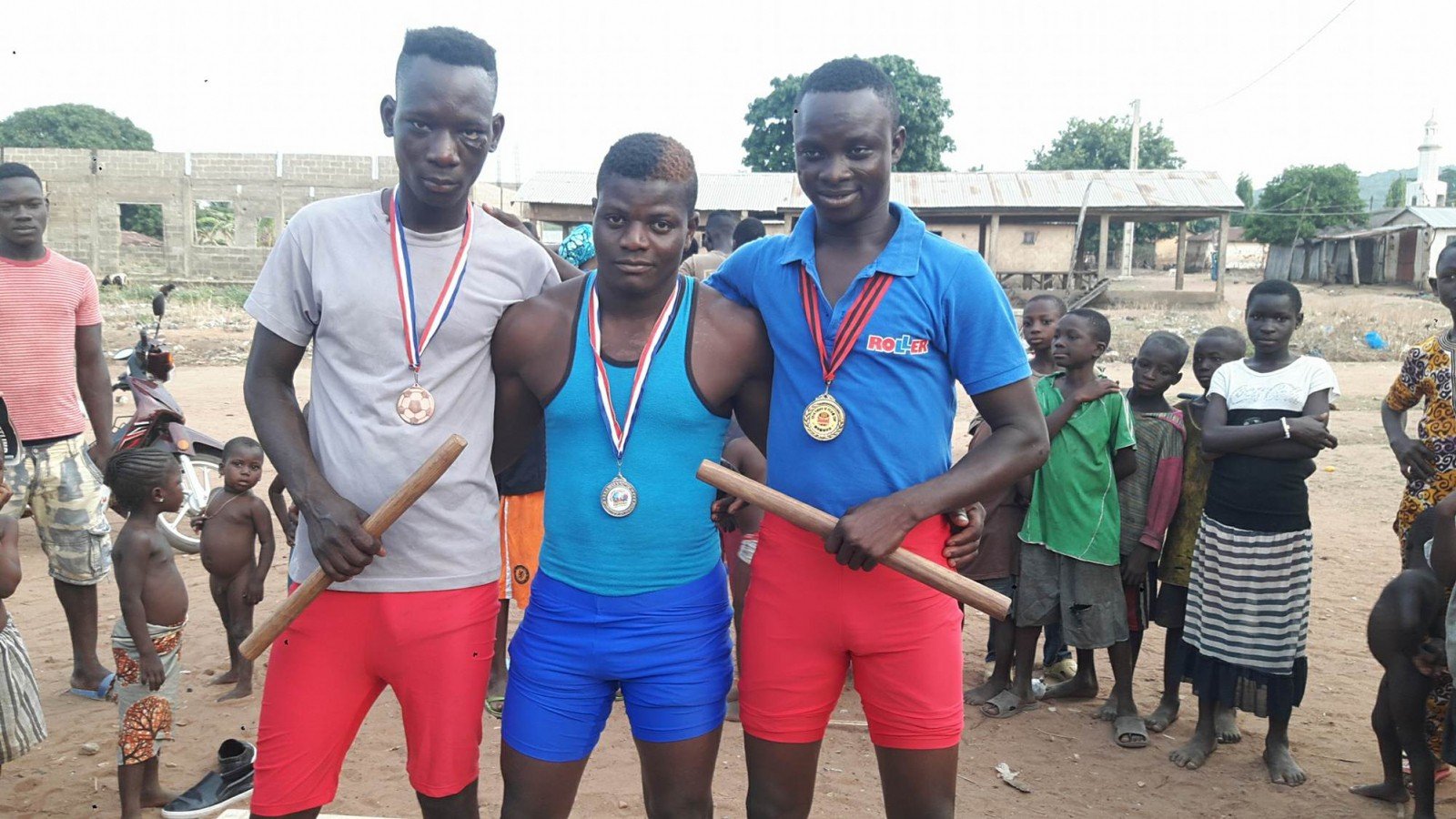 30.04.2018
Barely involved in this form of wrestling, which has long been practiced only in other continents, 75 sportsmen took part in the competition organized on the sidelines of the annual Aledjo development congress in Bassila.
These mas-wrestlers (minors, juniors, juniors, seniors and veterans) are all from the middle but come from Togo, Ghana, Nigeria, Niger and Benin. In front of more than 2000 spectators, the event started with a reminder of the rules of the game. This, by its promoter Hassane Fousseni Nadey who took the opportunity to rent by this opportunity, the benefits related to the practice of this form of struggle. At the end of the various events, each of the winners was awarded a medal according to his rank.
The competition saw the presence of administrative, political and socio-cultural authorities. The mayor of Bassila Aboubakar Gomina congratulated the promoter of this sport on behalf of the communal council and promised to accompany the initiative in the next few days. "Bassila must be the industry of the future champions of this sport in Benin and in the world," he promised before inviting practitioners to more diligence and discipline. Traditional wrestling is all about our culture and we also need to promote it, he added. For Souleymane Ashanti Vice President of HAAC and native of the locality, all forms of struggle must receive special attention from the federal authorities. "Benin can also go far with these different forms of struggle," he said. Police officer Dine IMOROU, who is also a native of the town and is a veteran champion and proud of his title, intends to fight for more medals at official competitions in Benin and elsewhere.
As a reminder, Mas-wrestling is a form of wrestling that is practiced sitting on a floor and that consists of unbalancing his opponent by a stick that tries to tear him out by showing concentration and power of muscles. After Bassila, it is Djougou who hosts the competition in the next few days.
Results:
- Minimes:
girls:
1st place - place - DRAMANI Adidja
2nd place - LILIWANOU Bachira
boys:
1st place - KOUTCHELE Bilal i
2nd place - FOUDOU Tairou
3d place - KOUTCHELE Ramdane
- Cadets:
1st place - SALIFOU Wakilou
2nd place -E DIALLO Arouna
3d place - DONDJA samoudine
- Juniors:
1st place - YOROU Assirou
2nd place - IDRISSOU Akim
3d place -TCHAGBELEOU Ilham
- Seniors:
66 kg -70 kg
1st place - ALIOU Sarahabilou
2nd place - DONDJA Bachirou
3d place - KORIKO Akim
71 kg-85 kg
1st place - MOHAMED Barahamou
2nd place - KONDO kaoneni
3d place - TCHAGOUNI nourridine
86 kg-95 kg
1st place - ZINSOU Paterne
2nd SAMA Bahissou
3d place - BOUKARI Abdoulatifou
97 kg-130 kg
1st place - ADAM Aliou
2nd place - GADO charif
3d place - TCHALEDJI Mubarak
- Veterans:
1st place - Dine IMOROU
2nd place - YABARA Anane
3rd Abu SIROU
Number of shows: 746
Country:
Benin