Pavel Chernogradskiy has became an ambassador of the Games Children of Asia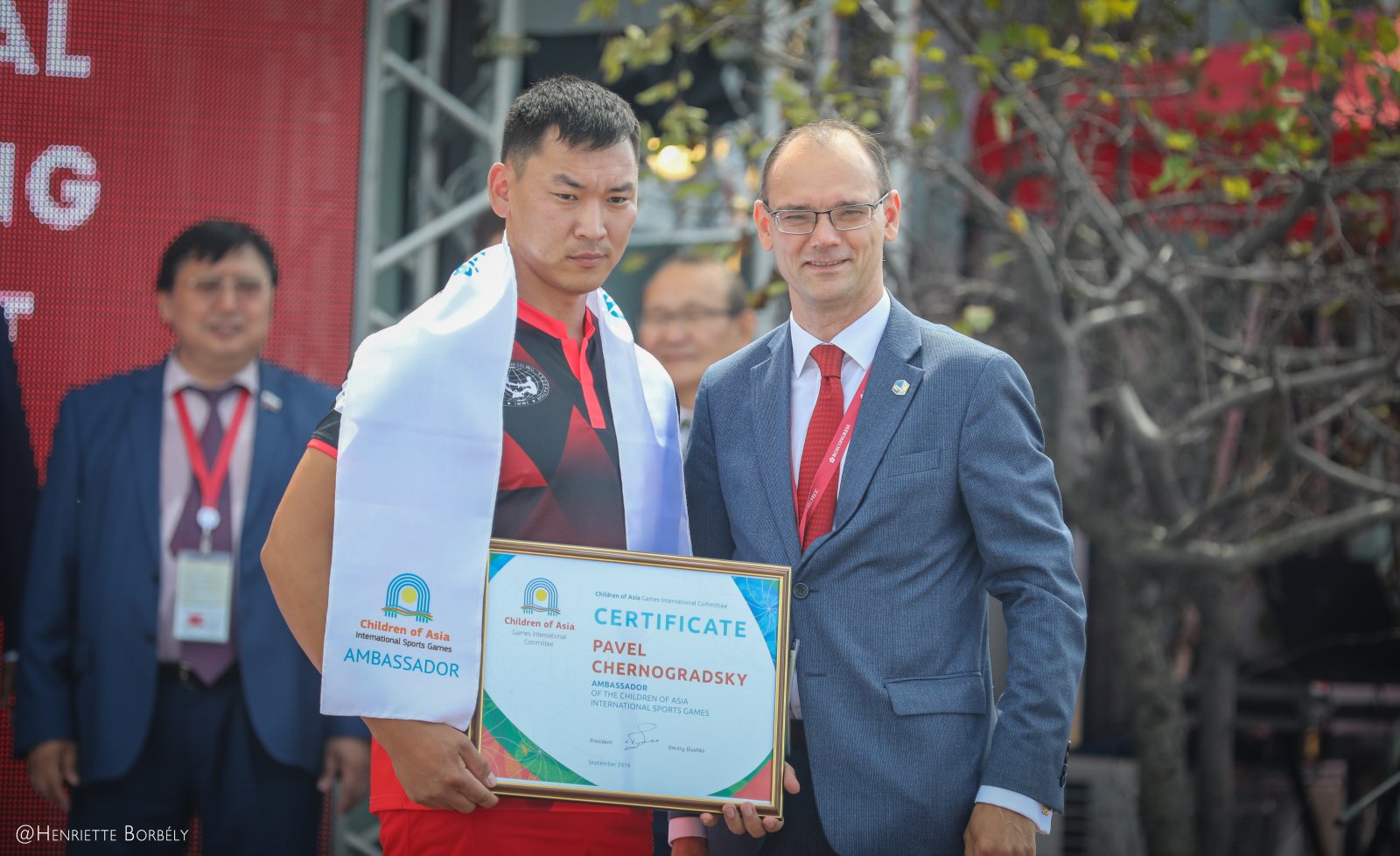 07.09.2019
September 7, 2019 the Ambassador 's certificate was presented on the Russkiy island city of Vladivostok at the Eastern Economic Forum.
On the 5th Anniversary of the Eastern Economic Forum, as part of its sports program, on September 5, the traditional Kolmar Coal Mining Company Cup International Mas-Wrestling Tournament was held.
At the opening ceremony, in a festive atmosphere, the President of the Children of Asia International Sport Games International Committee Dmitriy Glushko presented the certificate of the official Ambassador of the Children of Asia International Sports Games to the participant of the tournament from Russia Pavel Chernogradsky.
The title "Ambassador of the Children of Asia Games is awarded to people who have achieved high results in sports and are ideological inspiration and an example for young growing athletes.
Pavel Chernogradsky is a five-time Russian champion, winner of the World Cup 2015 and 2017 and the only three-time Mas-wrestling World champion in the history of modern mas-wrestling.
The initiator of the Games, the first president of the Republic of Sakha (Yakutia) Mikhail Nikolaev warmly congratulated the eminent Russian mas-wrestler on this title.
In his speech Pavel Chernogradsky thanked the leadership of the Children of Asia Games International Committee and the International Mas-Wrestling Federation for the high confidence placed in him.
"Children are the best that every nation has. Children are our future, our hope. I promise, - he said, - that I will promote the ideas of friendship and Olympism among the young generation. "
Participants from four continents donned T-shirts with the logo of the Children of Asia International Sports Games as a sign of respect for this action.
As you know, the following Games are scheduled to be held in August next year in Ulaanbaatar, Mongolia. All Asian National Mas-Wrestling Federations have already begun training their youth teams to participate in these global competitions among children and youth, sponsored by the International Olympic Committee.
On the same day, on the main stage of the pavilion of the Republic of Sakha (Yakutia), participants and guests of the Forum were able to see the premiere screening of a teaser for a documentary about a teenager from Mongolia, who is already preparing for the upcoming Games in his homeland.
Photo:
Number of shows: 611
Country: