Azat Tashtanbekov is a winner of the Kolmar Mas-Wrestling Cup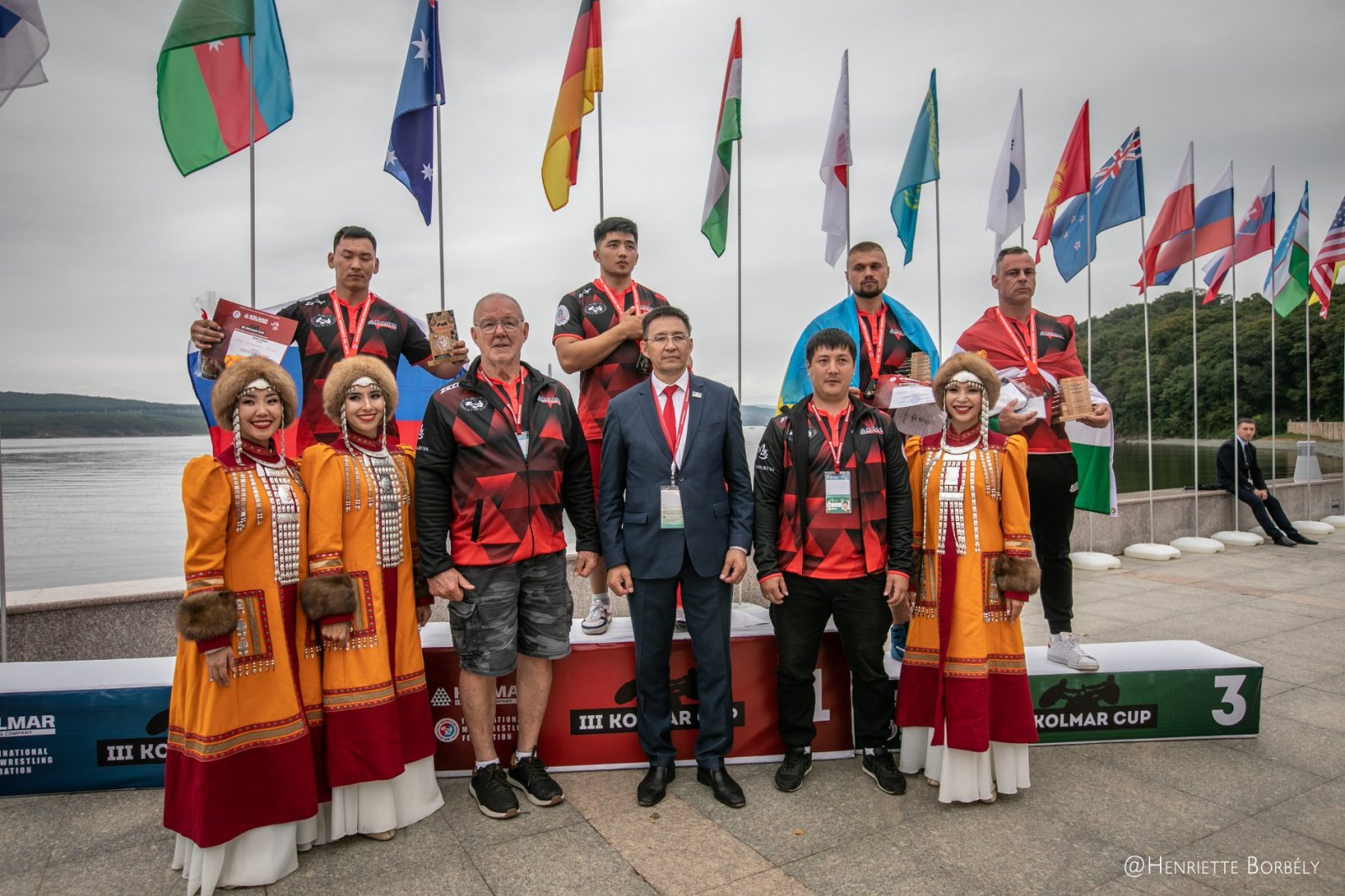 06.09.2019
Azat Tashtanbekov from Kyrgyzstan won a gold medal of the Kolmar Cup International Mas-Wrestling Tournament
September 6, 2019 Participants were welcomed by:
- Alexandr Akimov - Vice-Chairman of the Federation Council Committee on Federal Organization, regional policy, local government and affairs of the North, president of International Mas-Wrestling Federation;
- Sergei Tsivilyov - the Governor of Kemerovo region;
- Anna Tsivilyova - Chairwoman of the Board of Directors of the Kolmar Group of Companies ;
- Artyom Lyovin - CEO of the Kolmar Coal Mining Company;
- Alexandr Kim-Kimen - chairman of the Constitutional court of the Sakha Republic (Yakutia), the 1st vice- president of the International Mas-Wrestling Federation;
- Dmittry Glushko - president of the Children of Asia Games International Committee;
- Mikhail Nikolaev - the 1st president of the Sakha Republic of (Yakutia);
- Odd Haugen – Vice-President of International Mas-Wrestling Federation, United States of America;
- Innokentiy Grigoriev - minister of physical culture and sport of the Sakha Republic of (Yakutia).
Competitions took place with great heat. Even the red color of the banner from the huge screen seemed to give the heat. It was very hot on the stage, however, as well as among the numerous public. Everybody were recording video of wrestling until the competition end.
Athletes arrived as on selection, in excellent physical shape, with relief muscles. Experience of previous tournaments showed that taking into account peculiarities of terrain and conditions of stay on the Russkiy island it is better to invite athletes of lighter weight. Heavyweights find it difficult to quickly cross long distances from the accommodation to the place of holding the competitions. Some athletes sometimes stucked in time in the folds of the area, which had some undesirable consequences. The decision to invite more mobile, ready to carry out all the tasks set by the International Federation was absolutely correct. An amendment can be made for the future, that participants have a small difference in weight and were all about 100 kg each.
Though athletes from different ends of the world arrived and some saw each other for the first time, the atmosphere of sports brotherhood quickly loaded all. Those who dropped out of the competitive race provided powerful support to those who fought on. The results are as follows:
1. Azat Tashtanbekov (Kyrgyzstan)
2. Pavel Chernogradskiy (Russia)
3. Viacheslav Tesliuk (Ukraine)
3. Tamas Deli
5. Vyacheslav Starkov (Kazakhstan)
6. Jahangir Yagubov (Azerbaijan)
7. Lee David Martin (USA)
8. Attila Kitanovic (Slovakia)
9. Adam Jaroslaw Zuchowski (Poland)
10. Michael Hermann Manhart (Germany)
11. Stephen Bruce Burnell (New Zealend)
12. Mizuki Toyota (Japan)
13. Ilyos Kodirov (Uzbekistan)
14. Colin David Webb (Australia)
15. Youngjun Lee (Korea)
The general director of Sakha Almaz LLC, Vasily Borisov established a special prize - the Yakut diamond, which was played among all the participants of the tournament. The lucky owner became Jahangir Yagubov from Azerbaijan.
Photo:
Number of shows: 699
Country:
Russia