Andrew Bolinger, Canada: I found out about the technique the hard way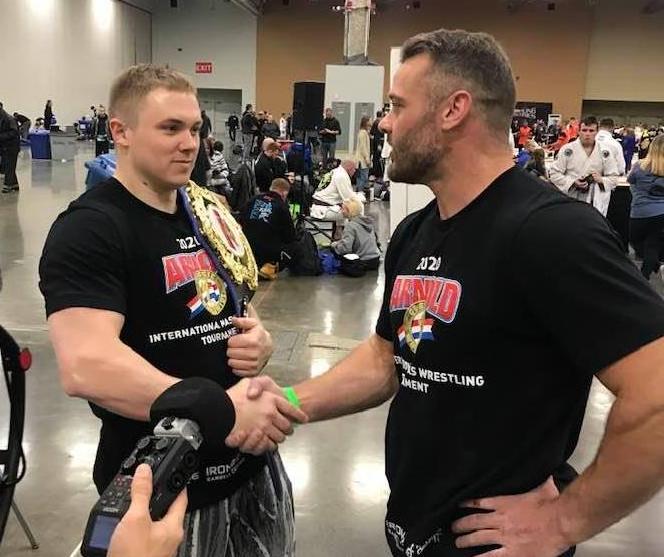 10.04.2020
We started publishing a series of Lee Martin blitz interviews with participants in the International mas-wrestling tournament as a part of the Arnold Schwarzenegger Sports Festival, which took place in unprecedented conditions in Columbus, USA.
On the eve of the grandiose sports festival of Arnold Schwarzenegger, there were certain doubts as to whether the competition would be held in principle or whether it would be canceled due to the pandemic. To minimize losses, the city authorities made an unprecedented decision and allowed to conduct only part of the competition without a spectator audience.
Then the insidious virus has not yet shown the world its terrible face. It was only on the approaches to this continent. It seemed that it was still somewhere far away in China. The organizers took only preventive measures. We still walked quite freely and actively hugged, as is customary with us.
But now this infection is rampant in the United States, claiming an unthinkable number of lives.
In order to support our American friends in these difficult days and not to lose hope of future meetings, we decided to post interviews with competitors on the site. See how they are positive and friendly to their rivals, despite the fact that they have just fought with them for the coveted victory in a prestigious tournament.

Special thanks to the interviewer and my colleague Lee David Martin from Los Angeles, California, who represented there the International Mas-Wrestling Federation Media Team.
Unfortunately, operators from Russia could not overcome the visa barrier and therefore had to resort to the help of their African colleagues. Thanks to Jessica Gaona and her boyfriend Frank.
Lee Martin: I'm Lee Martin from IMWF.

Andrew Bolinger: Andrew Bolinger.
Lee: Nice to meet you! You are here for Mas-Wrestling, how did find out about it?
Andrew: I've been for Mas-Wrestling for two years. I just got invited to do it in my gym and I didn't want to do it because the back position looked so bad, but I eventually got convinced to do it, so I tried it and really enjoyed it. I did a competition in Russia and ever since then I've been hooked.
Lee: What do you love about it and what draws you in?
Andrew: I think, the community is a lot. Better than in other strength sports, like everybody is really nice and friendly. And there is a lot of, like, cultural exchange, it's a very international sport, I really enjoy that. A lot of opportunities to travel, things like that. And the technique is very fun, there is a lot more to it than people think.
Lee: Absolutely. So, when you found out about the technique, is that something that made you want to learn it or is that something that made you feel like you couldn't do the sport?
Andrew: Yes, I found out about the technique the hard way. When I was against Ivan Belolyubskiy. He was like the World Champion for seven years or something, I thought it was just strength. I have good atlas stone strength, good deadlift so I just pulled to usually win in Canada. Then when I was against him it was like a wall. Then all the sudden he started to do all this stuff and I was like "What's going on?". You know. That's when I really realized, there is a lot to learn so I've been studying that ever since and trying to really improve.
Lee: Well for the last two years that you've been doing it, know the IMWF appreciates it! All the athletes that are competing now are pioneering the sport in North America.
Andrew: Yeah!
Lee: So we support you and we appreciate it. Thank you very much.
Interview was continued next day, when Andrew became a winner.
Lee: Earlier brother we were talking about why you like the sport so much. Is this why?
Andrew: Hey, I don't mind losing but winnings nice some times haha it felt good! Now im gonna take this belt home and hang it at my gym.
Lee: What was it like before the match? Was it pretty intense?
Andrew: Today it was kind of a bit more relaxed with the round robins. We got a lot of matches yesterday and I felt really ready for today. so I've been relaxed. Felt good.
Lee: Congratulations on your win today!
Andrew: Thank you!
Lee: How does it feel?
Andrew: It is good. I ll be back next year. Maybe 105 kg and go against you.
Lee: Very cool, very cool. I might be 90kg next year who knows haha
Andrew: (laughing) We can switch.
Lee: Congratulations again! Thank you so much!
Number of shows: 671
Country:
Canada