North American Mas-Wrestling Championship has ended in Fort Wayne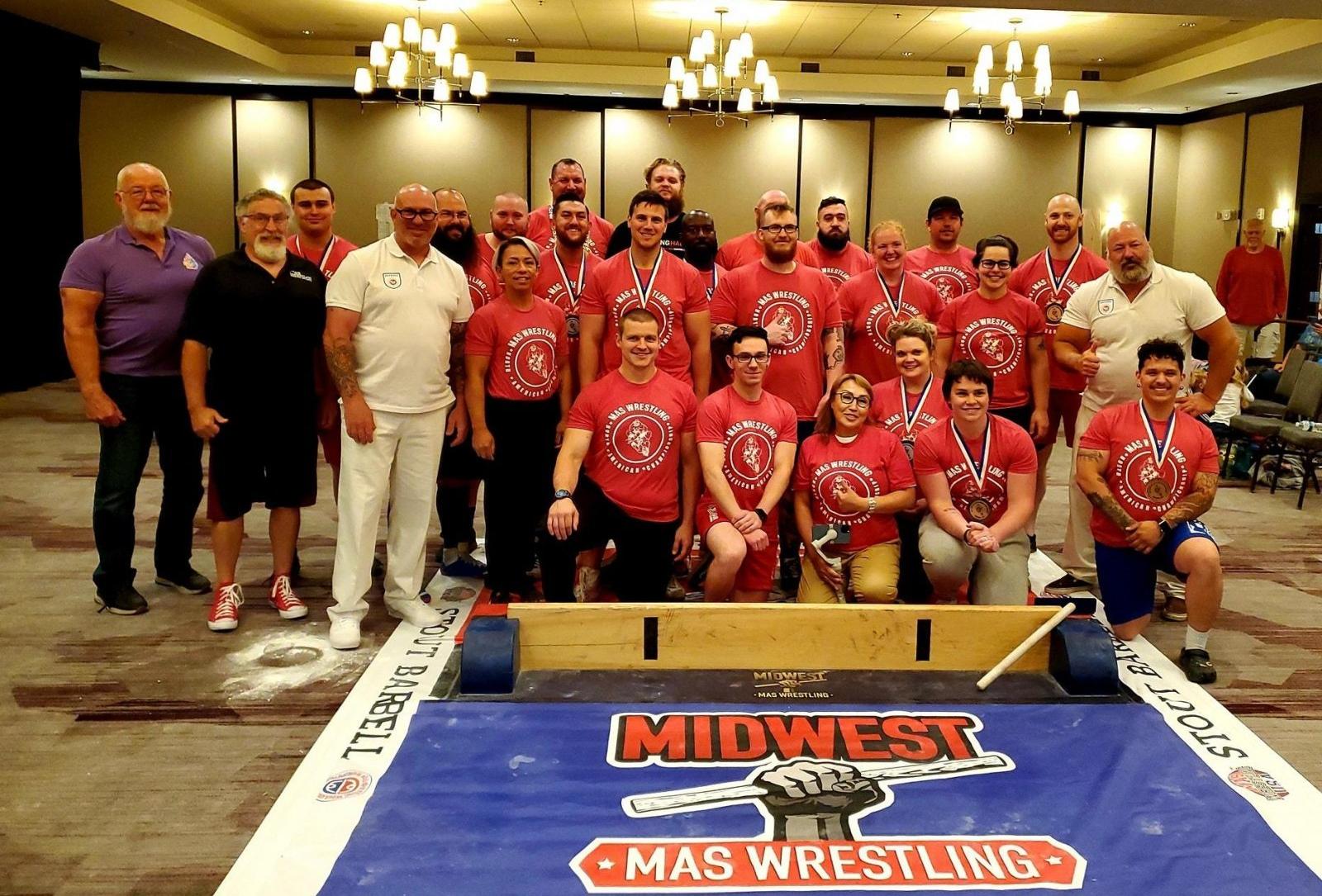 30.05.2021
The country is just beginning to remember the old days, when everyone breathed freely and could shake hands when they met. Although masks are retained in most public places, more and more people can be seen without them.
The location of the North American Mas-Wrestling Championship was determined this year in the city of Fort Wayne. This means that it has become the place of the warmest and most sincere hugs. It just so happened that we cannot do without it when we meet. And after protracted restrictions, even more so. People now especially appreciate ordinary things as an opportunity to simply move fr om city to city, communicate without any restrictions, to talk to heart's content while sitting at a big dinner table.
On May 27, we in a friendly company, led by the President of the US Mas-Wrestling Federation Odd Haugen, flew from Los Angeles to Chicago and rented a seven-seater minivan there. The chief of the clan drove the car. The road was long and different thoughts came to mind. When you're in the circle of preparing an international competition, or when you're traveling like this next to your foreign colleagues right now, and you listen to them all the way through a heated discussion of the nuances of Mas-Wrestling, you can't help but feel that it's not real. I mean, only ten years ago we started this world Mas-Wrestling history. And now, for many, even across the ocean, it's very common. Not all of America is covered, but some states have already installed equipment for Mas-Wrestling, which is made according to our drawings.
The main organizer of the Fort Wayne championship is John O'Connor, who owns a gym called Stout Barbell in Kendalville. There is a separate area for Mas-Wrestling trainings in this gym. Stout Barbell has been open since 2011. The main specialization is Powerlifting, Strongman, Highland Games, Mas-Wrestling and some other strength sports.
O'Connor spent five years serving in the US Navy as an engineer. He visited Somalia, Guam, Spain, Tunisia, Sicily, Hungary, Croatia and Bosnia. Since 2002 he has been working as a firefighter in Fort Wayne. Recently, John received his bachelor's degree in Sports Management. He coaches girls track, shot put and discus at East Noble High School.
John is a pioneer of Mas-Wrestling in the Midwest and has helped develop this sport in Indiana, Ohio, Michigan, Illinois, and Wisconsin. His best students Jared Trimble, Adam Turner, Nicole and Ryan Korner, Thomas Sroka competed today.
John is proud to be part of the world Mas-Wrestling community: "Since I became a part of world Mas-Wrestling I have been able to call a strength sports legend my friend, see some of the US I haven't seen before, stand on the main stage at the Arnold Sport Festival in Columbus, travel to Poland with my mom, get taste Hungarian delicacies and meet some of best people a person could meet".
Refereeing at the second stage of the Mas-Wrestling World Cup in Poland was a huge experience for John. We can say that he found his place in Mas-Wrestling. He is serious about promoting Mas-Wrestling in the United States.
John is a man of his word. As soon as we started a conversation about including Mas-Wrestling in the Police and Firefighters Games, he already contacted the organizers, made a spacial presentation, and almost everything started moving, as the pandemic began. But this fall, in September, Las Vegas will still host an international tournament among police officers and firefighters. Let's see what it will turn out to be.
The development of Mas-Wrestling is carried out by enthusiasts. There is a whole cohort of them - Odd Haugen, Jon Eccles, Bill Weiss from California, Chad Clark from Virginia. Now in their line and John O'Connor from Indiana. Young Jon-Clark Eklund also begins to be active in Texas.
Family support is important in any case. John has it! And this time among the spectators were his parents, his wife Melissa and the youngest son Jeremy. Family values are honored in America. I am always happy when athletes come to our competitions with children and parents. After victories and defeats, they always write a message of support on social media and post photos. And today, even before the competition, the board was occupied by children. I see that someone with a pacifier reached for a stick. Adults don't interrupt, they patiently teach.
American starts are slightly different from ours. They pass calmly, without unnecessary fuss and pathos. Athletes in a uniform of competition, mandatory in shorts on demand of the rules of the International Mas-Wrestling Federation, and specially made for this competitions commemorative T-shirts, disciplined, listen to the referees. And the referees try to stick to the rules. Odd Haugen keeps a watchful eye on everyone, making remarks from time to time.
Each event is different from the others. This competition was amazing in its humanity. Before the opening, all the participants gave a video greeting with words of love and support in the fight against an insidious illness, the Icelandic athlete Ellen Helga Steingrímsdóttir, who competed in the 2016 Mas-Wrestling World Championship in Kyrgyzstan. The girl has cancer and she was moved to the depths of her soul and grateful for such a sign of attention from the Mas-Wrestling community.
With us was again Chad Macklin, a leg amputee athlete. He made it to the finals without a single loss and won a unique medal specially made for an athlete who showed outstanding achievements in the championship. His efforts to achieve his goal do not go unnoticed. He was invited for the Mas-Wrestling presentation events in Liverpool. We really hope that all bureaucratic obstacles will be passed and we will see this Titan on the British platform in early July.
Among women, there was also an athlete with a similar defeat. She also participated with everyone on an equal footing. Opponents do not give them any concessions. But everyone who takes part supports her and gives good advice. In my opinion, there is still a need for additional rules for this category of mas-wrestlers.
Special mention is made to Nicole Korner from Indianapolis. We all know her by her maiden name, Nicole Higham. Newly minted husband Ryan is nearby and took the prize.
The competition took place in the hotel's cozy hall, wh ere all the participants stayed. The intensity of passions were expected to be high. There was a broken stick, which doesn't happen very often.
Only American athletes competed. Canadians were left to watch because the country was still closed and no movement was allowed even between provinces. Everyone lives with hope. The past championship gives it in full. Champions and prizewinners received their trophies, and the rest take home the great emotions and adrenaline they came for.
Each event held today is a great success in the current difficult epidemiological circumstances. It was excellent job!
On July 12, new Mas-Wrestling competitions will start in Los Angeles, and in September all the Mas-Wrestlers of the world will have Las Vegas. These events were included in the IMWF Calendar plan for a year and, accordingly, the Federation takes them under its control. See you all soon at our next competitions!
Photo:
Number of shows: 1103
Country:
United States of America