Khiva. Mas-Wrestling. Heat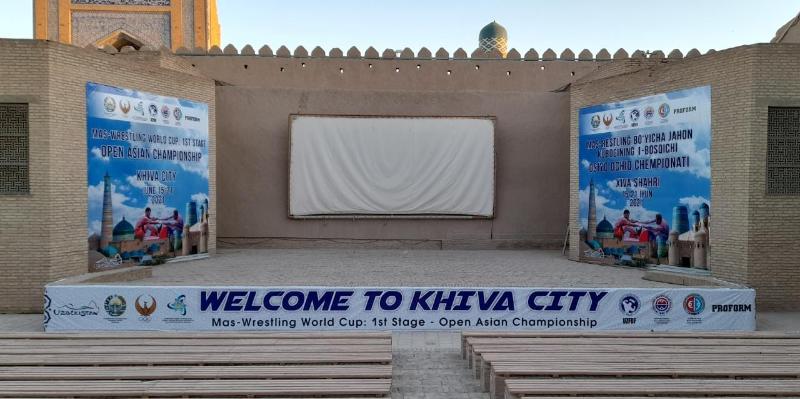 17.06.2021
Tomorrow at sunset, residents and guests of Khiva will not be able to enjoy the desired coolness. They will be hot from hot meetings on the Mas-Wrestling platform in the ancient fortress of Ichan-Kala.
The picture of the competition venue is impressive. Everything here smells of history. As one of the founders of Mas-Wrestling, Vladimir Sharin, noted, it is so symbolic to see an ancient sport within these ancient walls.
The commission for the admission of the participants of the World Cup: I stage and the International Mas-Wrestling Tournament among senior boys and girls has just completed its work. There are more than enough participants.
For the first time, the competition among adults is held in fourteen weight categories, as was adopted at the Congress of the International Mas-Wrestling Federation 2019 in Pabianice, Poland.
So, 138 athletes from nine countries have been admitted to the competition among men and women: Bangladesh, Hungary, Kazakhstan, Kyrgyzstan, Pakistan, Russia, Tajikistan, Uzbekistan and Ukraine.
We report the quantitative composition by weight categories:
Men
60 kg – 12
65 kg – 9
70 kg – 10
75 kg – 15
80 kg – 14
90 kg – 16
105 kg – 13
125 kg – 6
125+ kg – 7
Women
55 kg – 10
65 kg – 8
75 kg – 7
85 kg – 6
85+ kg – 5
The youth international tournament brought together 59 participants from five countries: Bangladesh, Kyrgyzstan, Pakistan, Russia and Uzbekistan.
Due to the intense heat (for example, today it was +48C), the competition was postponed to the evening. It will start at 17.00 local time. The grand opening is at 20.00. The organizers promise an extensive cultural program.
After a long break, it is a little exciting to see faces of friends. We express our gratitude to the host for the opportunity to get us all together again. Even if it is smaller, we continue to move forward.
Live broadcast information will be announced tomorrow closer to the start of the competition. Follow the news.
Photo:
Number of shows: 991