Dancing Mas-Wrestlers of Kyrgyzstan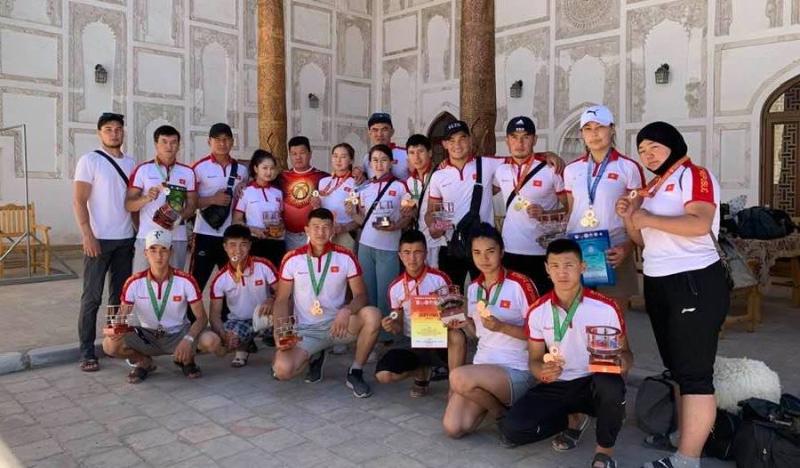 29.06.2021
National Mas-Wrestling Team of fraternal Kyrgyzstan impressed all the participants of the 1st stage of the World Cup in Khiva not only with their cohesion and mutual support, but also with their creativity.
The head coach of Kyrgyzstan in Mas-Wrestling, Marat Ramatov, knows different secrets of rallying his team members. So, recently, quite by accident, he found out about a dance challenge that swept the whole world called Jerusalema Dance Challenge.
"Jerusalema" is a song by South African DJ and producer Master KG, performed in a duet with singer Nomcebo Zikode. The dance to this song was invented by the Fenómenos do Semba group from Angola to show that you can be happy even in difficult times of a pandemic. In a word, this dance has become a kind of life-affirming symbol today.
«Why should we not do it», - decided Marat Ramatov and immediately practically without rehearsals his students from the team of Mas-Wrestling started dancing in the gym, and then against the background of beautiful Kyrgyz natural landscapes, showing pride for their homeland, as well as their youth and fervor.
At the same time, Kyrgyz athletes did not forget to glorify a favorite sport - Mas-Wrestling, including matches over the board between rhythmic pictures in their video. They brought the dance with them to Khiva and danced there a dance of victory and jubilation, because the Kyrgyz team showed an excellent result, taking second team place after the Russians.
It is a pity that the unbearable heat did not allow to catch this dance other teams from different countries who came to Uzbekistan to fight for the medals of the Mas-Wrestling World Cup stage. But that doesn't stop them from taking the initiative of our friends.
Go on, follow the dancing mas-wrestlers from Kyrgyzstan! Dance and enjoy your life while young! Young, first of all at heart!
Number of shows: 1099
Country:
Kyrgyzstan