Innokenty Fedorov, Russia: For me, training does not stop, but only begins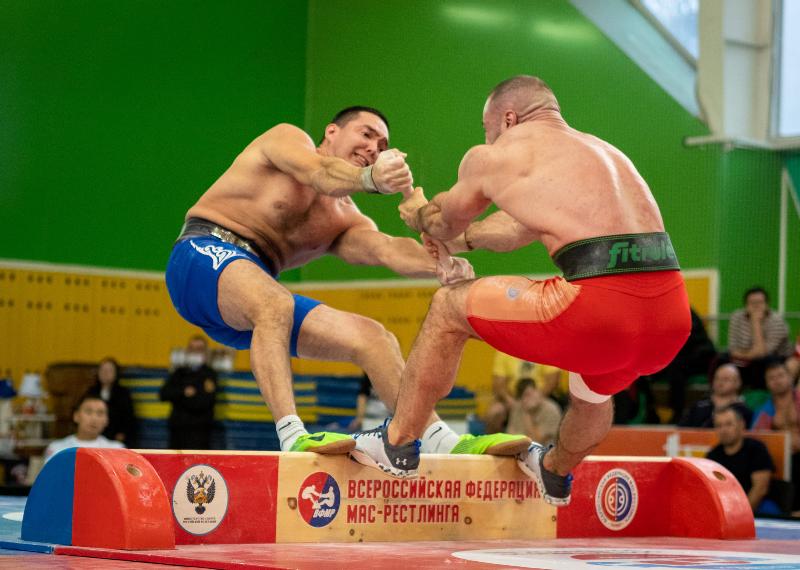 14.01.2022
Innokenty Fedorov won a convincing victory in Finland at the final stage of the Mas-Wrestling World Cup and now claims to be part of the Russian national team to participate in the Mas-Wrestling World Championship in Yakutsk.
The beginning of the calendar year means the beginning of the preparatory period for the long-awaited Mas-Wrestling World Championship in Yakutsk. More than 50 countries are already covered. Qualification competitions will be held in each country. Including in Russia.
It's no secret that Russia is a real forge of world champions in mas-wrestling. World champions become national heroes, their names are inscribed in golden letters in the annals of the world development of mas-wrestling - the youngest sport in the world.
So who claims to be the world leader? Your attention to the interview of the Russian mas-wrestler Innokenty Fedorov immediately after his triumph at the final stage of the Mas-Wrestling World Cup in Finland.
Innokenty: In 2019, I won the World Cup, so I already knew where I am going.
- Exactly one year ago you lost all hope for this year's competition, didn't you?
Innokenty: Yeah
- When you got injured in a duel with Chernogradskii, how did you get out of it and how did you come back as a winner?
Innokenty: Well, yes, indeed, the injury was so serious for qualifying to the Russian Championship, at least to get into the top five I had to quickly recover. I have started with small scales, you know, to get healed. My hand was still hurting, I was sitting there with a schoolboy on the platform, just in case he could stretch it, so that the blood would circulate a little bit.
- Immediately after the Russian Championship in Nalchik, when you got injured, how did you feel? Many of people said: "The end, injury, he's done". There is no future, he's out.
Innokenty: Noo, I didn't have that in my head at all. After all I was going to get back on platform as soon as possible. I still had to go to the World Cup, but I didn't know if the injury would heal or not, and it did. I never dared think of quitting training or giving up.
- Did you go to Russia and take it confidently?
Innokenty: Yes, I took it confidently.
- Who is the main rival in Russia and in the world?
Innokenty: In our category, Pavel Chernogradsky is still the main one.
- What about Roman Iskenderov?
Innokenty: Yeah, Roman Iskenderov is also a good opponent, I had to tune in.
- Degtyarev?
Innokenty: By the way, Degtyarev didn't caught in my net, so I didn't think much about him. Now Aleksey Kutukov is gaining momentum, and Dimitrii Makeev the young one.

And in the world, from Kyrgyzstan, Azat Tashtanbekov is very strong. This year, unfortunately, due to the move, he was not well prepared, so he should not be written off. He'll probably get ready next year. I haven't tried with Hungarian, seems he pulls well too. And the Armenian proved tough guy, I did not expect that he would give a stretch.
Moreover, I was surprised by the competition, they added a lot.

In 2019, it seemed to me that everyone was standing in one place and not developing. In my opinion, the competition is growing very strongly, which has been noticeable in recent years. Now it's hard to come out even from the republic. I didn't go to the first stage, I looked on YouTube and didn't understand why they were losing, but when I came to participate myself, everything was different, it turns out everyone added a lot, and I just realized that there are really strong guys from other countries.
I am sincerely glad to be here, since I'm not participating in international competitions for the couple year. At least I got one international stage.
- Pavel Chernogradsky is a three-time World Champion, would you also like to become a champion three times?
Innokenty: Yes, Pavel Chernogradsky is really good athlete, he is still a very strong opponent. Of course, I would like to become, break the record, but time will tell. In the future, I'm unlikely to stay in the 90 kg weight category. Sometimes I dream about "absolute championship". I want to gain weight and try.
In terms of competitions, I closed this year pretty well. My goal is not only the World Cup, but the World Championship too. Therefore, for me, training does not stop, but only begins.
- This is a very important thought. And now tell me, who is your authority? Who would you like to look up to?
Innokenty: Anatoly Baishev. And everyone is trying to be equal to him, I think so.
Photo:
Number of shows: 1050
Country:
Russia