The Karshi region mas-wrestling Championship was successfully held in Uzbekistan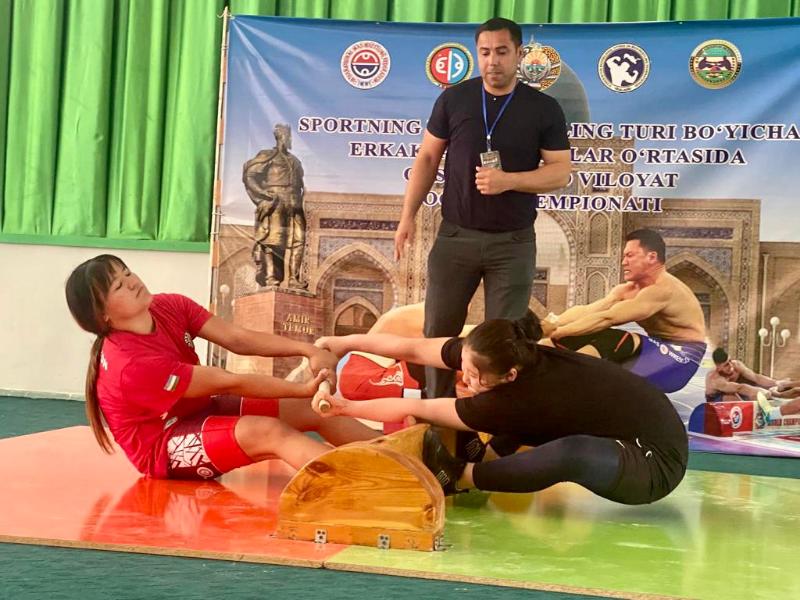 10.05.2022
On May 7, the Karshi City College of the Olympic and Paralympic Reserve hosted the Karshi Region Mas-wrestling Championship.


Presentation events were held before the competition.
More than 170 participants took part in the championship. The highlight of event was the absolute championship among men and women with the presentation of a beautiful winner's belt.
The Absolute Champion of the region is Saidkhonov Nozimjon. Rejabova Gulnoza became the strongest was among women,.
All winners and prize-winners were awarded with medals and diplomas and cash prizes from the organizers and sponsors of the competition.
List of winners and prize-winners
Women
50 kg
1. Begmurodova Madina
2. Faezova Shokhzoda
3. Chodieva Komola
60 kg
1. Khatamova Aziza
2. Fayzullaeva Sabina
3. Ryzykuloa Yulduz
70 kg
1. Ermatova Charoz
2. Mingbayeva Farangiz
3. Anorbayeva Nasiba
70+ kg
1. Rezhabova Gulnoza
2. Khaitova Begoyin
3. Abdullaeva Komila
Men
60 kg
1. Yuldashev Zukhridin
2. Zhavlonov Azami
3. Samtov Dilshod
70 kg
1. Khamtov Akhror
2. Erkinov Akhrorzhon
3. Rasulov Sherzod
80 kg
1. Mukhtarkhonov Ibrokhim
2. Majidoa Jasur
3. Tursunov Alisher
90 kg
1. Saidkhonov Nozimjon
2. Buriev Sharofudin
3. Normurodov Bobur
105 kg
1. Babojonov Elyer
2. Eshnazarov Abdulla
3. Akhmatov Mirafayoz
105+ kg
1. Itolmasov Orif
2. Pak Stanislav
3. Usarov Sirozh
Absolute category
Men
1. Saidkhonov Nojimjon
Women
1. Rezhabova Gulnoza
Абсолютная категория
Мужчины
1. Саидхонов Ножимжон
Женщины
1. Режабова Гулноза
Photo:
Number of shows: 783
Country:
Uzbekistan