Mas-wrestling World Championship – 2022 award attributes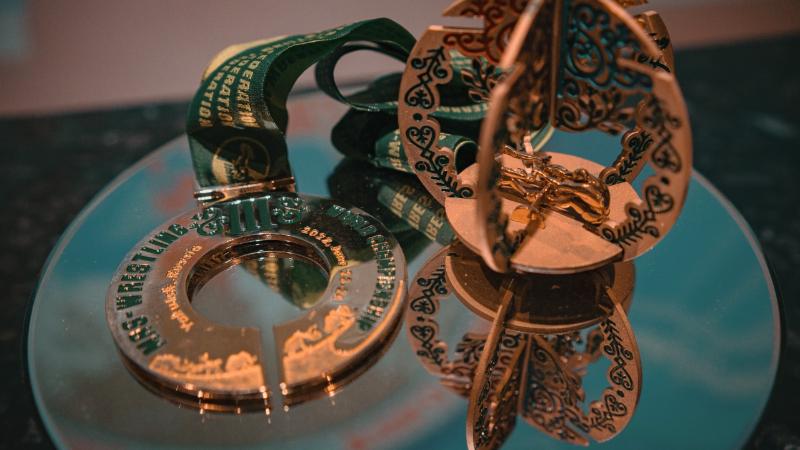 17.06.2022
The award-winning attributes of mas-wrestling always has a deep meaning, referring to the roots of the sport, to the unique original culture of the Sakha people. It is this exceptional feature that always distinguishes it from similar products in other sports.
This year's Mas-wrestling World Champions will be rewarded with an exclusive set - a medal with a stand designed by Diana Baisheva.
The award set is made based on the folk epic "Olonkho", which tells about the mythological structure of the world.
We see the globe in front of us in the form of the sacred Yakut tree Aal Luuk mas, which has five branches symbolizing the continents: Asia, Europe, Africa, Australia, America.
In the center of the composition are recognizable figures of Madjynys, as if frozen in the middle of the universe at the apogee of confrontation during a match.
The medal has the traditional shape of a circle on which people are depicted, which symbolizes the Yakut round dance "Osuokhai", familiar to all participants of international competitions. Walking in step, firmly holding the hand of the person walking next to us and echoing the words of the chorus, we demonstrate our unity and mutual understanding to the whole world.
The medal brings all the continents together, thereby giving a visual understanding that its owner has become the champion of the whole world.
The award-winning attributes of the Mas–wrestling World Championship - 2022 were made by the masters of the Kierge Jewelry House, a permanent and reliable partner of the International Mas-Wrestling Federation.
We thank Galina and Alexander Pavlov for their cooperation!
Number of shows: 1192
Country: