The WNG Mas-wrestling Championship was held at a height. Thank you all.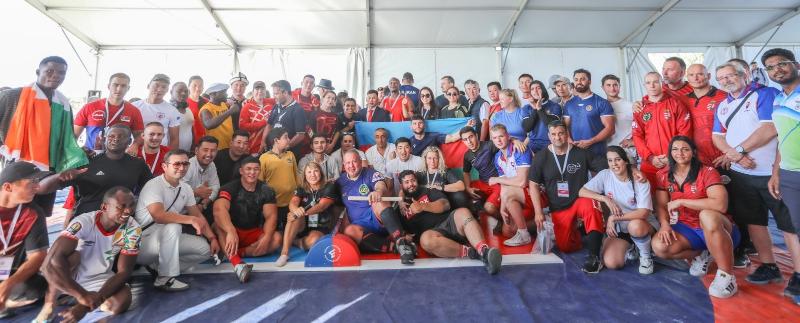 06.10.2022
The World Nomad Games Mas-wrestling Championship brought together the best from 23 countries of the world and has successfully ended in the Turkish Iznik.

At the opening ceremony of the championship, the chief referee of the competition Egor Yermolaev, Russia, and the deputy chief referee Odd Haugen, USA addressed the athletes with words of greeting. In their speech, they thanked everyone for their participation and gave a clear attitude to conduct bouts respectfully and honestly.
The competitions were held in an atmosphere of friendship and mutual understanding among athletes from different continents in four men's and two women's weight categories. The total number of participating countries is 23.
Asia: India, Iran, Kyrgyzstan, Mongolia, Sri Lanka.
Africa: Benin, Ghana, Cameroon, Ivory Coast, Tanzania.
Europe: Azerbaijan, Hungary, Poland, Serbia and Slovakia.
North America: Canada and the USA.
South America: Argentina, Bolivia, Brazil, Guatemala, Colombia and Chile.
Layout of participants in weight categories:
- men: 70 kg – 8 people, 80 kg – 10 people, 110 kg – 14 people, 110+ kg – 9 people.;
- women: 75 kg – 6 people, 75+kg – 8 people.
Azerbaijan, Iran and Kyrgyzstan brought full teams. They played a symbolic team standings. Kyrgyzstan, in the absence of the Russian national team, was expected to take the leading position, the Iranian team was pleased with excellent physical fitness and confidently took second place, and Azerbaijan, respectively, closed the top three winners in the team standings. We were glad to see athletes from this friendly republic who remained loyal to mas-wrestling from the very beginning of its promotion in the world.
In the category up to 70 kg, the current mas-wrestling world champion Azat Asanov from Kyrgyzstan is not unreasonably in the lead. Hungarian athlete Andros Pal gains experience from time to time and pleases with his successes every time. The newcomer from Canada showed a good school of Andrew Bolinger and now being inspired by success, intends to compete for the medals of the Olympia Mas-wrestling Championship on December 16-17 in Las Vegas, USA. We have known Arif Sharlafov for a long time and are glad that he is with us.
70 кг
1. Asanov Azamat - Kyrgyzstan
2. Pal Andras Janos - Hungary
3. Sekhon Manrai Singh - Canada
3. Sharlafov Arif - Azerbaijan
Azat Tashtanbekov has been working and training in Europe for many months, helping all his friends there and serving as a strong bridge of friendship. Thanks to him.
80kg
1. Azat Tashtanbekov - Hungary
2. Agayev Sultan - Azerbaijan
3. Shoul Sajad - Iran
3. Abylov Bekbolot - Kyrgyzstan
In the category up to 110 kg, no one had any doubts about leader. His name is on the first line. Jahongir Yagubov is a great fighter, but he missed several international tournaments. Once again, we are pleased with the Slovak team led by Jan Matej. This time he arrived with the coach of the national team – his son Jan Matej. And I will not be mistaken if I say that 18-year-old Oliver Sidorjak was the discovery of the championship. A very promising athlete, good luck to him on the way.
110kg
1. Ataybek uulu Keldibek - Kyrgyzstan
2. Yagubov Jahangir - Azerbaijan
3. Gholami Mahdi - Iran
3. Sidoryak Oliver - Slovakia
Huge, just a giant, Reza Geytazi had no equal in our championship. Good-natured and sociable guy left a great impression about himself. Ricardo Nort, as always, arrived accompanied by his half – the beautiful Si lmara. South Americans – Brazilian Ricardo and Manuel from Chile became the decoration of the competition. As soon as they appeared, a crowd of people gathered to take selfies against their background. They are so big and colorful.
110+kg
1. Gheytazi Reza - Iran
2. Gevaerld Nort Ricardo - Brazil
3. Yrysbaev Ulugbek - Kyrgyzstan
3. Angulo Jaime Manuel Luis - Chile
The world champion Dilbara Imankanova easily coped with all her rivals. Just no words, Marat Ramatov's excellent school! Girls are basically pleasing. They look great with makeup and hairstyles. They perform emotionally, with eyes burn. It's very pleasure to look at!
Women
75kg
1. Imankanova Dilbara
2. Degro Arroyo Aida Michelle - USA
3. Farahaninia Maryam - Iran
3. Valieva Guzel - Azerbaijan
The category over 75 kg left a special impression. Firstly, Ashlee Mayne, a star from the United States of America, has arrived, followed by a large army of fans. Without a doubt, she will soon take a leading position, but a professional coach is required. The gifted and strong girl admitted that she has gained invaluable experience and intends to continue her mas-wrestling classes. Ashley arrived accompanied by her heart friend and beloved mom. This speaks volumes.
It's not even worth writing much about Yana Vaskova. She is the clear leader of the world mas-wrestling. And period!
Naziia Mailibasheva's husband, after her expressive speech, wrote in an emotional outburst that he adores his darling and that his wife is the best. Who would doubt it. Naziia character does not occupy!
Polish athlete Agnieszka Korichka surprised everyone with her persistent attitude. With a leg injury at the very beginning of the competition, she continued bouts and won the coveted medal of the WNG championship!
Vanessa David from Hungary missed many, many international starts, as she got carried away with "iron" and almost forgot her favorite mas-wrestling once. But the competitive atmosphere, the support of everyone made the right decision to return.
75+kg
1. Vaskova Yana - Slovakia
2. Mailibashekva Naziya - Kyrgyzstan
3. Korycka Agnieszka Karolina - Poland
3. David Vanessa - Hungary
It remains only to bow low to all the organizers, referees and athletes for this holiday. Holiday of the soul.
I would like to emphasize once again that we have not seen each other in such an expanded composition for a long time, the atmosphere of former unity was in the air, everyone clearly missed the spirit of our brotherhood. Life lately presents only problems and troubles. The pandemic for a long time not only forced everyone to stay at home and in countries, it claimed the lives of our comrades. Now we are separated by a third force. And especially at this time it is important for us to hold on to each other tightly so as not to let the dark forces consume us. When the world is not changing for the better before our eyes and our favorite sport is fading into the background, we must be especially sensitive to each other, remember all the good things that connected us and be able to love. We all express our intention to preserve what we ourselves have built with the power of our enthusiasm.
On the part of the World Ethnosport Confederation, a reception was held with the participation of the president of the authoritative organization, Mr. Bilal Erdogan. Vice-President Lena Tomskaya was present on behalf of the International Mas-Wrestling Federation. The organizers have provided a prize fund, for which we bring words of sincere gratitude.
The championship was worked out by an international judging panel consisting of:
Chief Referee – Egor Yermolaev, Russia, Deputy Chief Referee – Odd Haugen, USA, Chief Secretary – Namyyna Konstantinova, Russia, referees on the platform – Aiaal Reshetnikov, Russia, and Ariz Ariev, Azerbaijan, referees of the participants – Ailana Stepanova, Russia, and Henrietta Borbely, Hungary, referee-expeditor – Igor Galutva. The head of the delegation is Lena Tomskaya, Vice-President of the IMWF.
We wish you all health, kindness and patience! See you again, friends!
Photo:
Number of shows: 687
Country:
Turkey