Qualifying competitions were held in Mongolia with the support of TV5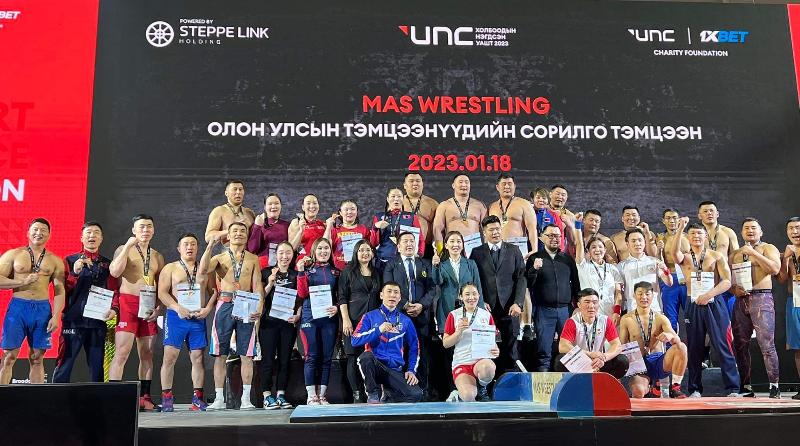 20.01.2023
On January 18 Mas-wrestling qualifying competitions were held in the capital of Mongolia at the Steppe Arena sports complex.


Qualification entitles athletes to further participation in international mas-wrestling tournaments.
This year's National Mas-wrestling Championship is planned to be held in April. And on August 10 - 13, 2023, Mongolia will host the Asian Mas-Wrestling Championship for the first time, which will be held in the capital of country-Ulaanbaatar.
Summing up, we express our sincere gratitude to the Mongolian Sports Corporation and the TV5 television team for the joint organization and live broadcast of the competition.
The prize fund is provided by the General Director of IT company Gogo technology Dmitry Baishev - Vice President of the Mas-Wrestling Federation of Mongolia.

Judging panel:
- chief referee - international category UWW referee B. Erdenebold;
- Arbitrator on the platform - Telman S., B. Daarimaa and others.
Men +105 kg
1. B. Munkhtushi /Emnogov/
2. B. Ganzolbu /Center/
3. B. Banzragch /Chingeltey/
3. T. Tuvshintulga /Special issue 120/
Men - 105 kg
1. T. Adyaatumor /Aagii pro/
2. B. Tumen-Ulziy /Umnogov/
3. Kh. Yerkebek /Bayan-Ulgiy/
3. G. Munkhtemun / Central Police /
Men - 90 kg
1. I. Sadam / Khovd /
2. K. Nurlan /Bayan-Ulgiy/
3. B. Onebold /Aagii pro/
3. M. Munkh-Uulei /The best road/
Men - 80 kg
1. S. Otgonbayar /Center/
2. M. Bilgun /Center/
3. I. Buyandalay /Aagy pro/
3. M. Altanbaatar /Aagii pro/
Men - 70 kg
1. Kazhimmukhan T. /Blacksmith/
2. A. Zhargalsaikhan /Bulgan/
3. T. Batishai / Overhangai /
3. M. Bat-Erol /Govi-Altai/
Men - 60 kg
1. Ts. Nyamdavaa /Ulaanbaatar/
2. T. Purevsuren / Zh-113 class /
3. A. Erdenesukh /Chingeltey/
3. O. Byambatsog /East Khara police/
Women 70+ kg
1. B. Erdenetuy /Aagy pro/
2. T. Oyun-Erdene /UBTDS/
3. B. Bakhytgul /Bayan-Ulgiy/
3. B. Orkhon /Gobi-Altai/
Women - 70 kg
1. B. Munkhtuya /Aagy pro/
2. Z. Sarantuya /Govi-Altai/
3. S. Enkhzhil /Gobi-Altai/
3. B. Chandman-Erdene /military/
This year the Mongolian Mas-wrestling Federation celebrates its tenth anniversary. It is a long time to recognize that the sport of mas-wrestling has taken root in the country and has good prospects for further successful development involving neighbouring Asian countries.
We are proud that our federation along with the rest of the world sports community makes the history of Sport, introducing a completely new kind of martial arts! The level of competitions held in our country grows day by day. We care about everything from the coverage of more territory in the country to the visual range of venue design and media coverage.
A solid backbone of enthusiasts has formed around mas-wrestling. And the International Mas-wrestling Federation promises support in the training of qualified professionals in mas-wrestling. So, this year there will be training seminars for judges and coaches.
The work continues!
Photo:
Number of shows: 86
Country:
Mongolia