Mas-Wrestling tournament at the Bangabandhu' Dhaka Divisional Ethnosport Championship 2023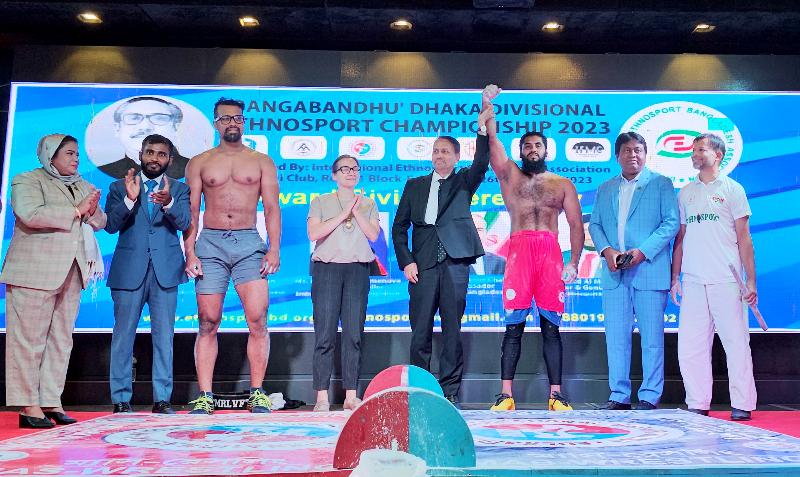 28.10.2023
Organized by: the International Ethnosport Bangladesh Association, On 26th October 2023 at Banani Club, Dhaka-1213.
More than 200 contestants participated from 25 institutions in different districts of Dhaka division. Welcoming remarks were made by Md Al Mamun, Founder and General Secretary of the International Ethnosport Bangladesh Association
Bangabandhu' Dhaka Divisional Ethnosport Bangla.... His Excellency Mansour Chavoshi, Ambassador of the Islamic Republic of Iran to Bangladesh attended as a Chief Guest at the awards ceremony.
We're also presented as an Honorable Special Guest Ms. Ekaterina A. Semenova, Minister-Counsellor of the Embassy of Russia in Bangladesh and Mr. Şevki Mert Bariş, Coordinator of Turkish Cooperation and Coordination Agency (TİKA) in Bangladesh.
We're also presented as an Honorable Guest Mst Asma Khatun, Joint Secretary, Int. Ethnosport Bangladesh Association-IEBA. Miss. Kazi Mehazabin Momtaz, Chairman, DSL Group. Md. Ziaur Rahman, Zonal Executive Officer (Deputy Secretary), Zone 2(Mirpur). Squadron Leader (rtd) Sadrul Ahmed Khan. Former Deputy Sergeant at Arms, Bangladesh Parliament.
Member, finance and planning affairs sub-committee of Bangladesh Awami League. Ruhul Amin Rasel, Business Editor, The Daily Bangladesh Pratidin and Advisor, Bangladesh Jeweller's Association and HE Ambassador Zahangir Alam presided over all the functions.


Number of shows: 218
Country:
Bangladesh