IV Ukrainian Mas-Wrestling Cup was held in Melitopol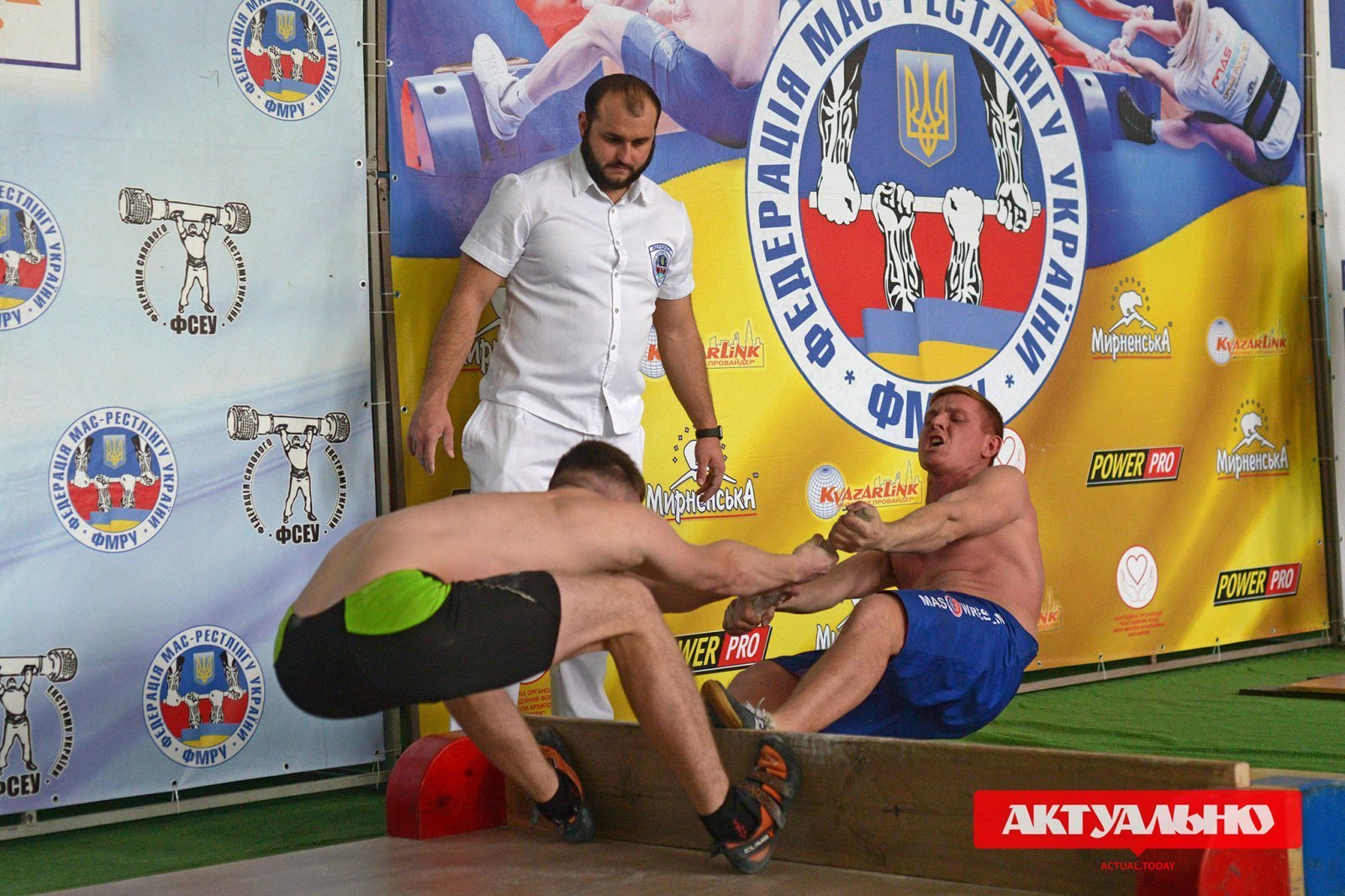 06.03.2019
Last weekend, one of the main mas-wrestling tournaments has taken place in Melitopol as a good tradition.
About 50 athletes from 6 districts of Ukraine participated in the competition. Athletes from Dnipropetrovsk, Sumy, Zaporizhia, Kherson and Kharkiv Oblast and also from Kiev met on the platform. As last year, the competitions were held on the base of the sports complex of the Tavrichesky State Agrotechnical University. But there was one significant nuance. In 2018, Valery Gazayev, the President of the Mas-Wrestling Federation of Ukraine, headed the department of Physical education of this University. As a result the opportunities of the development of this type of sport in Ukraine have expanded significantly. The best argument of this is the participation in the tournament of a huge number of young athletes, who recently discovered Yakut wrestling.
Despite the fact that many young athletes have made their debut on the tournaments, we have seen also an athletic performances by «veterans» of domestic mas-wrestling. Such as the huge return of 2016 European Champion Olga Sukach, who was forced to miss two seasons due to the injury. An athlete confidently won the Ukrainian Cup for the second time. Another very experienced athlete Sergei Kislyi also has returned, he took the second place in his traditional standoff with Aleksei Koushnir. Vadim Naryzhnyi, who also known as mas-wrestling elite, has again shown that he is second to none.
The results of the Ukrainian Cup as well as the Ukrainian Championship will have a decisive influence on organization of the national team, which will participate in three stages of 2019 World Cup. In the total score, the leader was the team from Zaporizhia Oblast. The second place went to athletes from Dnipropetrovshchyna, and the bronze of team work took the team of Kherson Oblast.
Results:
Girls up to 55 kg:
1. Vera Zhylyna (Kherson Oblast)
2. Maria Kostuchok (Zaporizhia Oblast)
3. Natalia Barishpol (Zaporizhia Oblast), Bogdana Fil (Zaporizhia Oblast)
Boys up to 54 kg:
1. Eric Teremenko (Kherson Oblast)
2. Allaz Karadzhaev (Kherson Oblast)
3. Nikolai Chaika (Dnipropetrovsk Oblast), Matvey Yuhnenko (Sumy Oblast)
Boys up to 59 kg:
1. Anton Nikolaenko (Zaporizhia Oblast)
2. Kamal Yusupov (Kherson Oblast)
3. Vladimir Nazarevich (Kherson Oblast), Kirill Krupskii (Sumy Oblast)
Boys up to 80 kg:
1. Egor Krupskii (Sumy Oblast)
2. Dmitrii Kramarenko (Kherson Oblast)
3. Dmitrii Gorshkov (Sumy Oblast), Artyom Prozorovskii (Zaporozhia Oblast)
Juniors up to 65 kg.:
1. Olga Tarasenko (Zaporizhia Oblast)
2. Olesya Silina (Zaporizhia Oblast)
3. Bogdana Fil (Dnipropetrovsk Oblast)
Juniors girls over 65 kg:
1. Ekaterina Kiselyova (Zaporizhia Oblast)
2. Olga Moskalenko (Zaporizhia Oblast)
3. Arina Fomina (Dnipropetrovsk Oblast)
Juniors up to 72 kg.:
1. Stanislav Bocharov (Zaporizhia Oblast)
2. Yurii Metel (Zaporizhia Oblast)
3. Andrei Romashenko (Dnipropetrovsk Oblast)
Juniors over 72 kg:
1. Kirill Muravyov (Zaporizhia Oblast)
2. Dmitrii Bashyuk (Zaporizhia Oblast)
3. Nikita Starvoyt (Zaporizhia Oblast), Vitalii Sokolovskii (Zaporizhia Oblast)
Open category Women up to 75 kg:
1. Olga Sukach (Zaporizhia Oblast)
2. Anastasiya Ivchenko (Dnipropetrovsk Oblast)
3. Ekaterina Kiselyova (Zaporizhia Oblast)
Open category Men up to 70 kg:
1. Stanislav Bocharov (Zaporizhia Oblast)
2. Maksim Tumanov (Dnipropetrovsk Oblast)
3. Anton Nikolenko (Zaporizhia Oblast)
Open category Men up to 80 kg:
1. Aleksei Koushnir (Zaporizhia Oblast)
2. Sergei Kislyi (Zaporizhia Oblast)
3. Vladimir Mostovoi (Dnipropetrovsk Oblast), Rodion Pavlenko (Zaporizhia Oblast)
Open category Men up to 105 kg:
1. Vadim Naryzhnyi (Zaporizhia Oblast)
2. Vyacheslav Tesluk (Dnipropetrovsk Oblast)
3. Mitrii Bashuk (Zaporizhia Oblast), Aleksandr Kramarenko (Kherson Oblast)
Open category Men over 105 kg:
1. Oleh Sylka (Kiev)
2. Yaroslav Apalkov (Dnipropetrovsk Oblast)
Photo:
Source:
http://actual.today
Source URL:
http://actual.today/v-melitopole-proshel-iv-kubok-ukrainy-po-mas-restlingu/?fbclid=IwAR39pQIXxbVSpGYV7p9KTKtTx3r-rdG5KLBus3bXFHyDNN8c4S-rMQW_CcQ
Country:
Ukraine