Pakistan bags 2 gold & 1 bronze medal in Arnold Classic Mas-Wrestling Championship 2019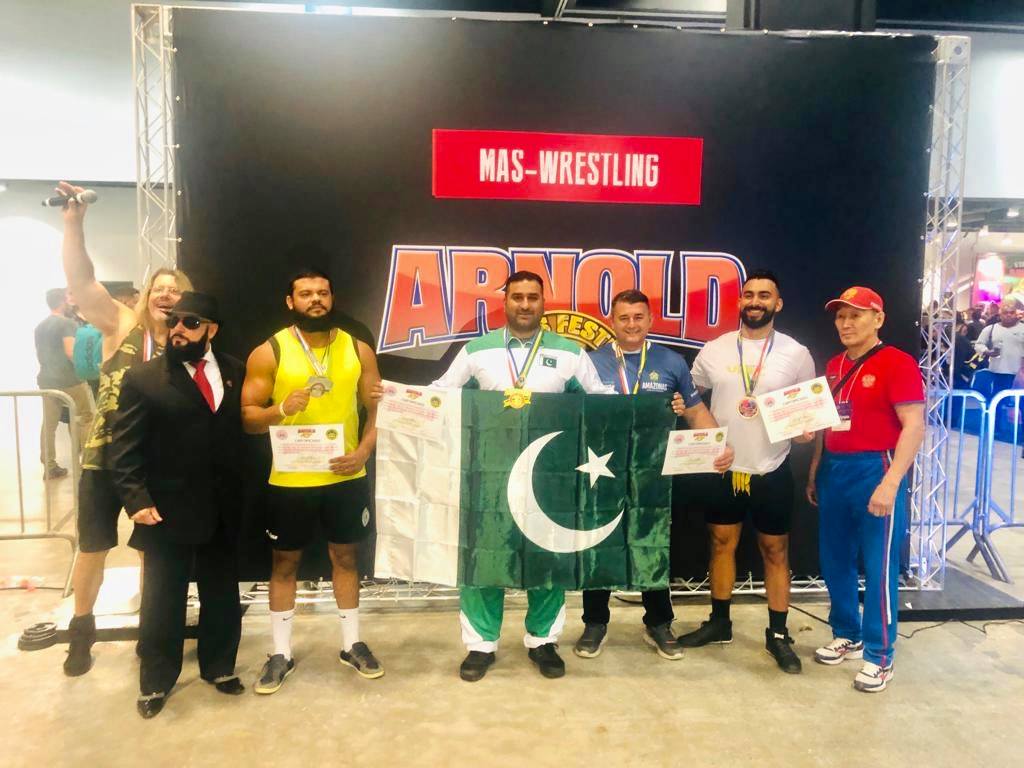 15.04.2019
A 3 member Pakistani squad participated in Arnold Classic Mas-Wrestling Championship 2019 and won 2 gold and 1 bronze medal at Sao Paulo, Brazil.
Mas-Wrestlers from 11 countries of the world namely: Azerbaijan, Armenia, Hungary, Georgia, Germany, Canada, Mongolia, Kyrgyzstan, Pakistan, Russia, Uzbekistan and various states of the United States were in for participation and wrestlers from their respective states were seen competing against each other with all their might so as to win top honors in this international mega wrestling event.

Pakistan Mas-Wrestling Federation sent three of its best mas-wrestlers who were fit to take part in this international event, the players were: Salman Aqeel Butt, Asim Qayum and Rehman Raza who competed in 80 KG, 90 KG and 105 KG weight classes, respectively. Aqeel Javed Butt accompanied them as their Team Manager while Salman Aqeel Butt lead the team as the Captain.

The tremendous and stunning performance of Pakistan's Mas-Wrestling team earned them two of the gold while one bronze medal in their respective categories. Rehman Raza was the first one to etch his name on the top spot claiming the gold medal in 105 KG weight class while Asim Qayum was awarded with a bronze medal as he managed the third position in 90 KG weight category. Another to win a gold medal for Pakistan is Salman Aqeel Butt who defeated his much experienced opponents and clinched the gold medal by winning the first position in 80 KG weight class.

It is considered to be one of the greatest victory for the Mas-Wrestling Federation of Pakistan as the players won gold medals as well as a bronze medal in such an huge international event.

Source:
https://www.khilari.com.pk/
Source URL:
https://www.khilari.com.pk/news/3783/pakistan-bags-2-gold-1-bronze-medal-in-arnold-classic-mas-wrestling?fbclid=IwAR0TXV3ugTGeTwp21ilOTtjrHdbEO7qX7-szVkCuZJzqUsVpwhu_SqrC9-Y
Country:
Brazil