Mas wrestler ready for Arnold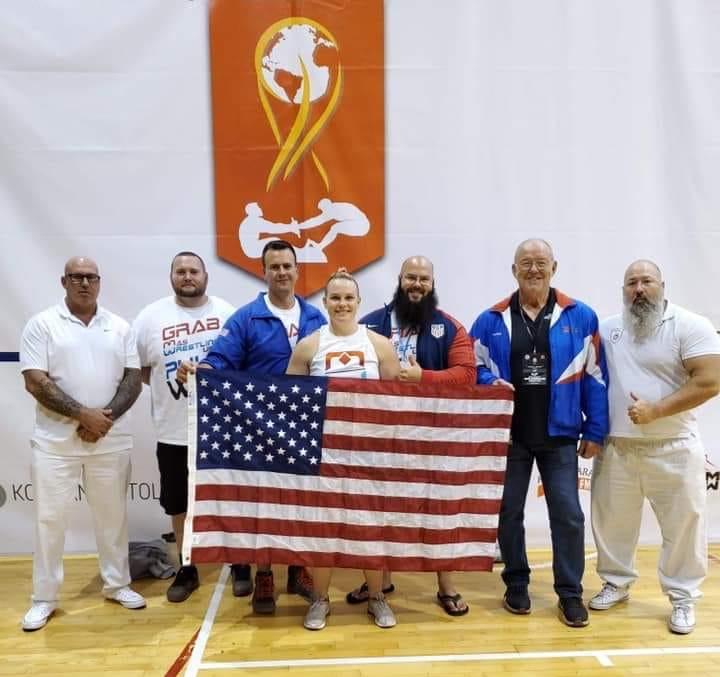 01.03.2020
Albion strongman, 2 others from area to compete
Born from strongmen ready to prove their mettle to others while simultaneously seeking respite from brutal Siberian winters, mas wrestling, a derivative of traditional stick pulling, continues its deliberate ascension within the strongman community worldwide.
Count Adam Turner, a corrections officer at Chain O' Lakes Correctional Facility in Albion, among those mas wrestling has pulled into its grip. Turner will join Huntertown's Jared Trimble and Churubusco's Amy Egly in Columbus, Ohio, for the mas wrestling competition during the Arnold Sports Festival. John O'Connor, owner of Stout Barbell in Fort Wayne and founder of the Midwest Mas Wrestling club, will coach the three and serve as a judge.
"The sport is growing all the time and more people are learning about it," Turner said. "Social media is helping out, and more and more people are figuring it out. Maybe 10,000 people might know what it really is, and some people might have just seen it once or twice."
The Arnold will feature mas wrestling competitors from all over the world as just one of over 80 sports featured at the four-day festival, set to run from Thursday to Sunday at the Greater Columbus Convention Center, the Ohio Expo Center and other venues throughout central Ohio.
Mas wrestling features two competitors holding a 1.25-inch-diameter stick that measures 19.75 inches long, with their feet propped against a footboard. When given the signal to start, competitors can win the match in a few ways – pulling the stick out of their opponent's hand, pulling their opponent over the board or pulling their opponent to the board while moving their feet off the board.
After placing fifth at the Arnold a year ago, Turner hopes to improve upon that performance. He admittedly surprised himself by faring so well considering the 2019 Arnold was his first international competition. But then again, after defeating the North American champion just weeks into his mas wrestling career, then later in 2019 advancing to the World Cup semifinals in Poland, the sport just sort of comes naturally to the 31-year-old strongman.
"Obviously I was strong, which helped out, and I just had to learn as I was going," Turner said. "I have a strong deadlift (over 700 pounds). As I did competitions, I picked up on more technique and figured out how to build speed. I'm just training and watching videos and going from there."
Mas wrestling wasn't even introduced to the United States until 2013, when Odd Haugen, a Norwegian legend of strongman sports, traveled to Siberia to learn more about the sport. Known worldwide for both his strength and incredible grip, Haugen, who played in the NFL for both Washington and San Francisco before competing in World's Strongest Man competitions in his 50s, then brought the sport to America.
O'Connor first discussed the sport with Haugen at the Arnold several years ago, ultimately traveling to Thousand Oaks, California, to receive additional training in how to coach the sport. O'Connor then returned to Fort Wayne, setting up a mas wrestling board and offering to train those showing interest in the sport.
"We're doing what we can," O'Connor said. "You have to have a good grip and good mobility. You have to be strong and you have to be willing to try something new.
"Adam's a big, strong guy with a big deadlift. He has gotten better (with his mobility) since he started."
As mas wrestling continues to grow in popularity, the sport also pops up at more and more strongman events both in American and abroad, particularly in strongman hotbeds Russia, Turkey, Saudi Arabia and Poland. Turner echoed O'Connor's sentiments about the willingness to give the sport – a hybrid of strongman, tug-of-war and wrestling – a fighting chance.
"Sometimes you do see it in strongman competitions. (At a recent competition in Los Angeles), you could do mas wrestling as one strongman event, but a lot of people don't want to do it because it looks dangerous. Really, it's just like any sport. Yes, there's a risk of injury, but as long as you warm up and know what you're doing, it's not that bad."
Source:
https://journalgazette.net/
Source URL:
https://journalgazette.net/sports/rec/20200301/mas-wrestler-ready-for-arnold?fbclid=IwAR0hVSj8GHZ7nTRT9KORwi_RkHfaiAIMAtlG4m1ZxWBBFONVfzSRiohfFcY
Country:
United States of America