Juha-Vesa Janti spoke about the preparations for the Mas-Wrestling World Cup final in Finland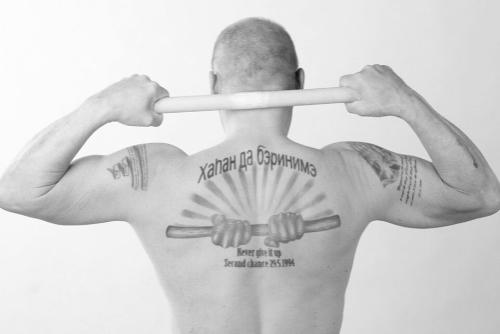 17.11.2021
The final stage of the Mas-Wrestling World Cup will be hosted by Finland on December 16-20. The head of the local Mas-Wrestling Federation Juha-Vesa Jantti, also known to the public for a tattoo on his back with the inscription "Хаһан да бэринимэ" (Never give up), told YASIA that the country's leadership supports the holding of an international competition in the yakut martial arts, clear requirements have been formed for their organization against the backdrop of a pandemic. The organizers plan to surprise with the high-level World Cup in snowy Finland.

The final stage of the World Cup was supposed to be hosted by Moscow, but due to the epidemiological situation, difficulties arose with their organization. So the venue was moved to Finland in the city of Pyhtää at the suggestion of the head of the local federation Juha-Ves Jantti.
"In the summer we were supposed to have a Mas-Wrestling World Cup stage, but due to the bad situation with the coronavirus, we had to cancel. And now we have a second chance to organize it, but this is the final stage, and we are very pleased that this happened. Competitions mean a lot to me, and we want to organize them at a very high level and surprise everyone in snowy Finland", said YASIA Juha-Vesa Jantti.
According to him, there are currently three men and two women in the national team. Among them are Juha-Vesa Janti himself (up to 80 kg), also strong athletes in the person of Pekka Hasu (90 kg), Roni Pazhukovski (90 kg). The head of the Finnish Mas-Wrestling Federation noted that at the previous stages of the World Cup their team was small, but still showed decent results, the same is expected at the final, their own walls should help them.
"The local authorities are very supportive of this event and the local infectious disease doctor gave really clear instructions for the competition. I can't say for sure if the audience can watch it yet, but we hope they would be delighted to see such a great sport for real. Finally, hello to everyone from Finland. Stay strong and healthy, and most importantly, never give up", emphasized Juha-Vesa Janti.
At present, teams from Benin, Hungary, Canada, Kyrgyzstan, Latvia, Pakistan, Russia, Slovakia, USA, Togo, Uzbekistan, Ukraine, Uruguay, Finland have confirmed their participation.
Source: Yakutsk-Sakha news agency
Source URL:
https://ysia.ru/yuha-vesa-yanti-rasskazal-kak-idet-podgotovka-finala-kubka-mira-po-mas-restlingu-v-finlyandii/
Country: