Eldos Aitbaev from Kyrgyzstan is the main contender for the title of the owner of the Mas-Wrestling World Cup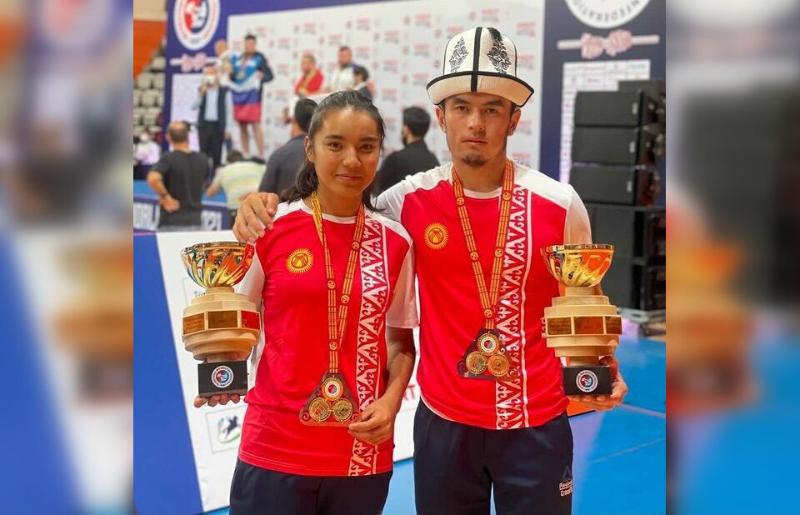 23.11.2021
At the previous two stages of the Mas-Wrestling World Cup, an athlete from Kyrgyzstan Eldos Aitbaev in the weight up to 70 kg won the title of the winner. The decisive stage remains - the final one to win the title of the world cup holder. But the national team of Kyrgyzstan is counting not only on him - seventeen athletes have been announced from this country for the international start in Finland, reports YASIA.
At the first stage of the World Cup, athletes from Kyrgyzstan won 19 medals of various degrees, at the second stage - 15 awards. The best result in this team is shown by Eldos Aitbaev, performing in the weight category up to 70 kg: he became the winner of the two previous stages of the cup and will go to Finland as a favorite to the final stage. Another contender for the victory is Kymbat Nurzhanova, who represents Kyrgyzstan in the weight category up to 65 kg among women. She became the third in the first stage of the World Cup and the winner in the second.
A coach from the Issyk-Kul region Marat Ramatov told about his pupils YASIA: "Of my students, the clear contender is Eldos Aitbaev, weight category 70 kg. He was the first in two stages. And, of course, I hope for Kymbat Nurzhanova - 65 kg. In Istanbul, she easily coped with all her rivals, leaving them no chance to win in any period. "
As he said, so far 17 athletes have been announced from the national team of Kyrgyzstan, but how many of them will definitely go to the final stage of the Cup in Finland will become known later. Athletes from this republic traditionally show strong wrestling and are among the strongest athletes after the Russian national team.
"Only those who have a chance to be in the winners of the three stages go to the final. Personally, I am counting on two gold, three silver and nine bronze from the national team. The main competitor is, of course, Russia, represented mainly by Yakut athletes, "Ramatov specified.
Eldos Aitbaev as part of the Russian national team is opposed by the Yakuts Pyotr Burnashev and Mikhail Emelyanov. Yakut athletes Ekaterina Belolyubskaya and Faina Dmitrieva will compete with Kymbat Nurzhanova.
Source: Yakutsk-Sakha news agency
Source URL:
https://ysia.ru/eldos-ajtbaev-iz-kyrgyzstana-glavnyj-pretendent-na-zvanie-obladatelya-kubka-mira-po-mas-restlingu/
Country: