It's a family reunion of friends to celebrate strength culture, example of how mas-wrestling unites us all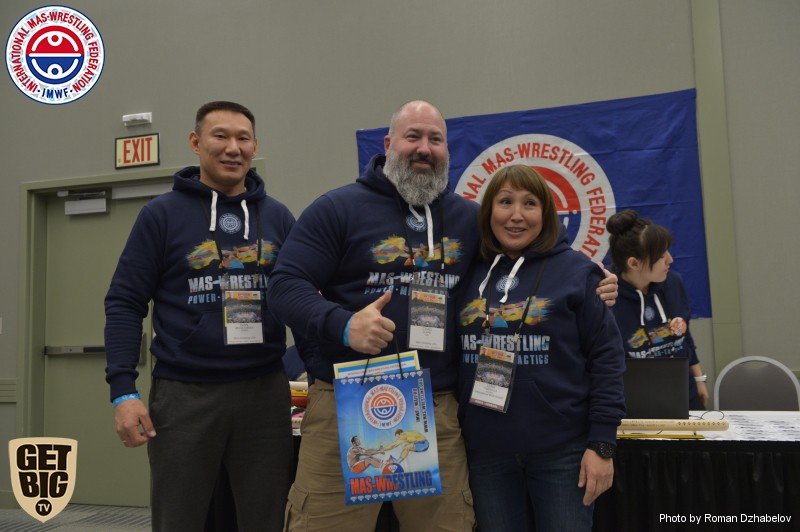 11.03.2017
Chad Clark (Team USA) about his impressions of the IMWF Mas-Wrestling Absolute Championship
As couple of days passed since Arnold's Sports Festival we are all thinking about the results of the competition - but not the actual results (ranking) but what we learned and what we earned during this time. Some of us met each other the first time but most of the people greeted each other as old friends, exchanged presents and souvenirs and stayed together for the whole weekend. What we can say for sure: we learned how to interact and find solutions together in any situations and communicate even without any language knowledge just using smile. The competitors were so serious on the stage but it all ended with a handshake and congratulations after the match because we have no losers: we do have winners and the ones who learn how to win.
We were lucky to have representatives from nine countries, all of the competitors enjoyed each other's company, and sometimes we wish we could spend more time together but the time difference and tiredness had no mercy.
We asked Chad Clark (Team USA) about his impressions.

Chad Clark (Team USA): To me the Arnold Sport Festival and IMWF Mas-Wrestling Absolute Championship are more than sports events. It's a family reunion of friends from around the world to celebrate strength culture, another example of how mas-wrestling unites us all!
I think the mas event ran great, really couldn't have asked for anything better, it was awesome to look out into the crowd from the stage and see so many spectators, it was amazing how people signed the waiver each day to give mas a try, we literally had to turn them away , the future definitely looks bright for mas-wrestling.
Photo:
Number of shows: 988
Country:
United States of America
---
Related Information: